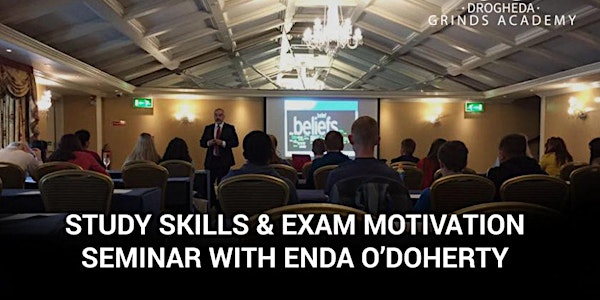 Study Skills & Exam Motivation Seminar - Enda O'Doherty & Drogheda Grinds
Still not sure how to study effectively for your exams and make the most of your revision time. Start your year off with the best intentions
When and where
Location
Tommy Leddy Theatre - TLTdrogheda co louth Matthew's Lane Drogheda Ireland
Refund Policy
Contact the organiser to request a refund.
About this event
Who should attend: 1st Years – 6th Years Secondary School Students
The one day seminar covers a wide range of skills including motivation, goal setting, time management, exam performance, note taking and memory techniques and coping with learning issues and exam anxiety. The goal of this seminar is to equip students with the skills and motivation to achieve their potential and is suitable for 1st years to 6th years.
The seminar is delivered by Enda O'Doherty; consultant, teacher, Ironman, comedian, and motivational speaker who delivers a powerful seminar on how to motivate students to engage in proactive study methods to reach their potential. Enda connects with students in a very real manner and discusses balancing studying and the importance of study / life balance and perspective.
Enda has over 25 years experience in education, motivation and goal achievement. Having completed both Ironman UK & Sweden he has a unique insight into personal and team performance. His most recent challenge has seen him carry a washing machine for 9 marathons over eight days from Belfast to Waterford in aid of Pieta House.
His recent Study Skills Seminars in Blackrock College, Alexander College and numerous venues around Ireland have been extremely well received by students and parents alike. This study skills seminar is being hosted by Drogheda Grinds Academy and is open to all 1st year to 6th-year students that wish to attend.
Over 800 students from Drogheda, Swords and Navan have now attended over the last 6 years.
What past students said about the event:
It was really good, funny and entertaining. I learnt a lot. Every 1st year should be made go to this seminar. It's set me up for the rest of the year. 1st Year – St Mary's
I thought it was very good and really funny. It will really help me study better. 2nd Year – Our Ladys
I thought it was very helpful and I have learnt loads of new study techniques from the day. I hope some of what I have learned today will help me in the future and to achieve my goals. Thanks very much TY – Ashbourne Community College.
Good study tips that are easy to remember will defo use them for the rest of the year 3rd – Loretto Balbriggan.
I found it extremely helpful and it felt good to hear from a fellow dyslexic person as I've always doubted myself whilst studying and put myself down. Thank you for the motivation to keep going with my study Enda. 2nd Year
I thought the day was absolutely brilliant and the learning, humour, notes were all really helpful for me for my upcoming exams. I am sure using these study methods will help me get better grades than before. 3rd Year Sacred Heart
Good tips, very interactive and funny. Regular breaks were good too – Thank you!
Really interesting tops and motivating, actually feel compelled to follow the tips and work harder for my future – 5th Year, Drogheda Grammar
I though the day was great craic and I learnt loads that I didn't think I would. Enda was very helpful and funny – 1st Year St. Josephs Drogheda.
I thoroughly enjoyed my day today. I learnt loads of new study skills and techniques which I hope to try out in the near future! Thanks it gave me a more positive and open mind about studying. Thanks a mil! 6th Year – Our Lady's, Drogheda.
I thought today was good and I learned better ways of studying and how I could improve my grades. You were really funny and kind. 2nd Year Sacred Heart
Thank you so much for an enjoyable day. I learned a lot and I am going to put the study skills into action and score higher on exams. Thanks again, enjoyed it. 6th Year Gormanstown.