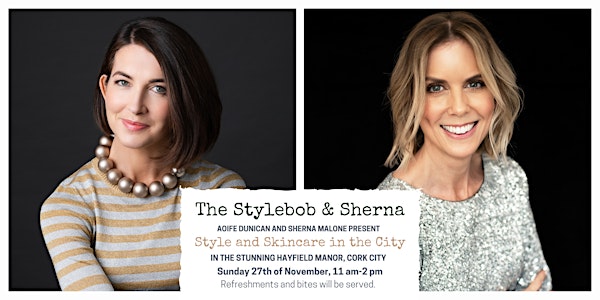 Style and Skincare in the City
Leading experts, The Stylebob and Sherna Malone present STYLE IN THE CITY - a complete masterclass in style and skincare in Hayfield Manor
When and where
Location
Hayfield Manor Hotel College Road T12 HT97 Cork Ireland
About this event
Skincare guru, Sherna Malone and Personal Stylist, Aoife Dunican are collaborating for this very special afternoon to talk about how to elevate your style and perfect your skincare regime.
How we dress has changed so much in the last few years but the secrets to great and effortless style are still the same. Individual style is complemented by an individual approach to our skin and knowing how to master both will benefit you both in your personal and professional life.
What will you learn?
Sherna will demystify skincare as it can be a confusing space. The advice out there is often conflicting and overwhelming. To exfoliate or not to exfoliate? Micellar water or a cleansing lotion? A drop of serum? What about face masks? If you have been pondering these questions amidst the self-care pressure during our recent lockdown, Sherna will enlighten us on her Top Tips for Great Skin Days.
Aoife will show you how to augment your individual style and dress for your own sartorial fashion lane. Clothes are an extension of our goals and personality and people are often overwhelmed about where to start. Aoife will show you how to master dressing for your shape, colour, lifestyle, and ultimately your well-being. The talk will also include a where to start section along with a glimpse into Aoife's little black book of style.
About the presenters - Sherna Malone
Sherna Malone Beauty & Skincare Expert, managed and taught in her family business, the Bronwyn Conroy Beauty school in Dublin before moving to West Cork in 2014. Now based in Clonakilty, the facialist, beauty expert and blogger offers a variety of services including skincare consultations, facial treatments, and masterclasses for adults, teens and tweens. She is also the Beauty Columnist for the West Cork People.
About the presenters - The Stylebob, Aoife Dunican
Bob since birth! Aoife Dunican is an internationally accredited stylist and owner of The Stylebob, a personal and corporate styling consultancy helping men and women globally, amplify their image for ultimate confidence. Aoife works with individuals for image consults and wardrobe management including personal shopping and wardrobe edits. Aoife is passionate about using your image and clothes to create confidence, exude presence, give a great first impression and, be the best you can be.
Aoife is also a global keynote speaker at events delivering an energetic talk on all aspects of personal brand, image and style and has contributed to newspapers and magazines on her style ethos. www.thestylebob.com
Life is too short not to be your own version of fabulous.