Join the SU Team for our annual BBQ social night, which includes some super fun crazy tag rugby-madness! No experience required
About this event
Join the SU Team for our annual BBQ social night, which includes some super fun crazy tag rugby-madness. Come down, support the social event and have some fun with the team during our big night of fun! Any students can enter and we have a prize of a €250 Dine in Dublin Voucher & DBS Merchandise for the winning team, so make sure your grab your buddies and get involved. This is a social event, so no experience is required with tag rugby, and it's all for fun! All the rules will be explained on the night and drinking will be encouraged by all :)
The SU party bus (not to be missed) meets at the CH Common Room at 6pm and will head off the Sydney Parade then to watch all the fun!
Your night includes:
Party bus ticket
Two complimentary pints for all players & supporters!
A BBQ (with Vegan options available), some live music and an entertaining tag tournament at Sydney Parade with the SU team.
Other fun challenges on the night.
Pints will be available at the venue from just €4 afterwards.
Do you want to enter a team? You can enter the social competition with one of our teams on the night or you can register a team by contacting vp.studentlife@mydbs.ie (or drop into the Student Experience Hub).
Team requirements: Funky socks/funky hat combo! One team captain. And each team must include at least two girls.
Prize includes a €250 Dine in Dublin voucher & DBS Merchandise for the winning team.
BYOB is welcome to help you support the teams on the night!
See you there.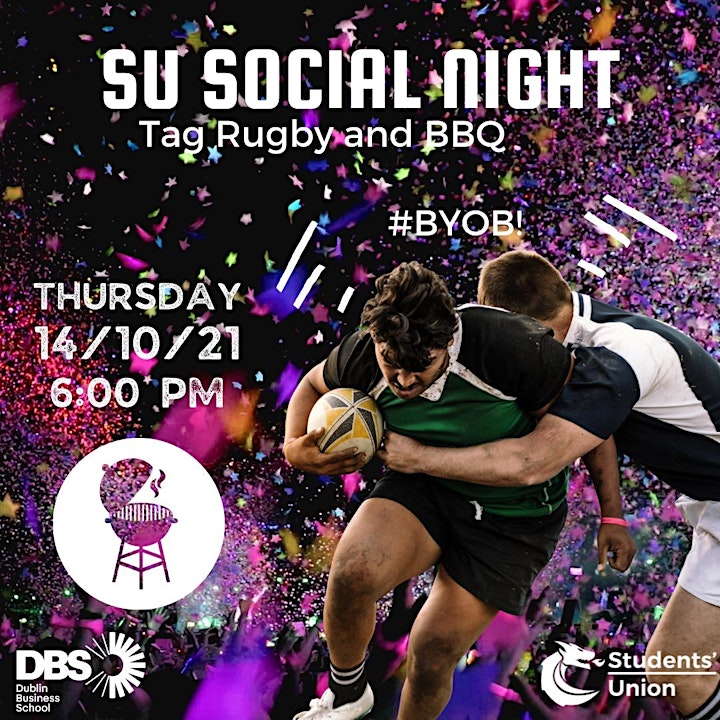 Organiser of SU Social: Tag Rugby Night