Subsidised Digital Marketing Course (Part-time) - QQI Level 5 Certificate
Description
Subsidised Digital Marketing Programme for the employed

Digital Marketing Course Overview
The Digital landscape is changing rapidly. New channels, strategies and benchmarks appear daily. The DPP Skillnet part-funded Diploma in Digital Marketing course ran by SureSkills over 15 weeks part-time, is an industry-led course, which has been designed by Industry experts to incorporate the new QQI award for Digital Marketing covering the latest trends, strategies, real world experiences and best practices in the Digital Industry.
This practical hands on course will give you a complete overview of all of the core channels and how they fit together in order to plan and deliver successful digital and social media marketing campaigns, applicable for both B2B and B2C businesses.
There is big demand for jobs with Digital skills in Ireland.
If you are working within the Digital Marketing space or you have previously worked in Sales, Marketing, HR, PR, Customer service, IT & are seeking new opportunities or you want a career change we urge you to register your interest and find out why Digital and Social Media skills are now a fundamental requirement for anybody in business today.
If you want to register for this program please contact Diane Dignam, admin@dppskillnet.ie
The course is due to start on the 5th of September and will run for 15 weeks, from 18:00 – 21.00 every Tuesday.
What will be learned?
How digital and social media marketing can grow your business by understanding the best practices and essentials in the following channels;
• Introduction to Digital Marketing • Search Engine Optimisation (SEO) • Pay Per Click (PPC) • Google Analytics • Email Marketing • Inbound Marketing • Overview of Social Media landscape • Facebook Marketing • LinkedIn for Lead Generation • Twitter, YouTube and Blogging • Social Media Monitoring, Online PR & emerging social media trends • E – Commerce • Digital Display Advertising • Mobile Marketing • Affiliate Marketing • Planning and Implementing a Digital Marketing Strategy • Career Planning Workshop
Course outcomes
You will learn;
• How to target and engage with your prospects & customers across the digital channels
• Search strategies, testing options & landing page best practices to generate leads
• How to use social media to reach & engage with the right audiences anywhere on the web
• Multi-channel content marketing & how you can measure your ROI
• How to execute and improve the ROI of any online campaign
• How to stay current and competitive on the latest digital & social media trends
• How to use your web analytics to measure what matters, identify changes that you can make to improve business results quickly
• Which metrics to focus on based on your objectives, audience and offering
• How to plan a digital marketing campaign from inception to completion
• You will gain practical, real-world digital marketing training that will grow your business and accelerate your career
Who should attend?
Whether you are looking to grow your new start up business or looking to increase your increase your knowledge to hep you in your current role then this course is for you. This course is relevant for most professionals in business today as digital marketing skills are becoming a pre requisite for almost all jobs in industry today. This course offers a fantastic opportunity to network with fellow design skillnet professionals, business owners & industry peers, fellow jobseekers giving you a fantastic learning experience in a relaxed and practical environment and is delivered in a classroom/workshop format, accompanied with templates, slides and peer discussions.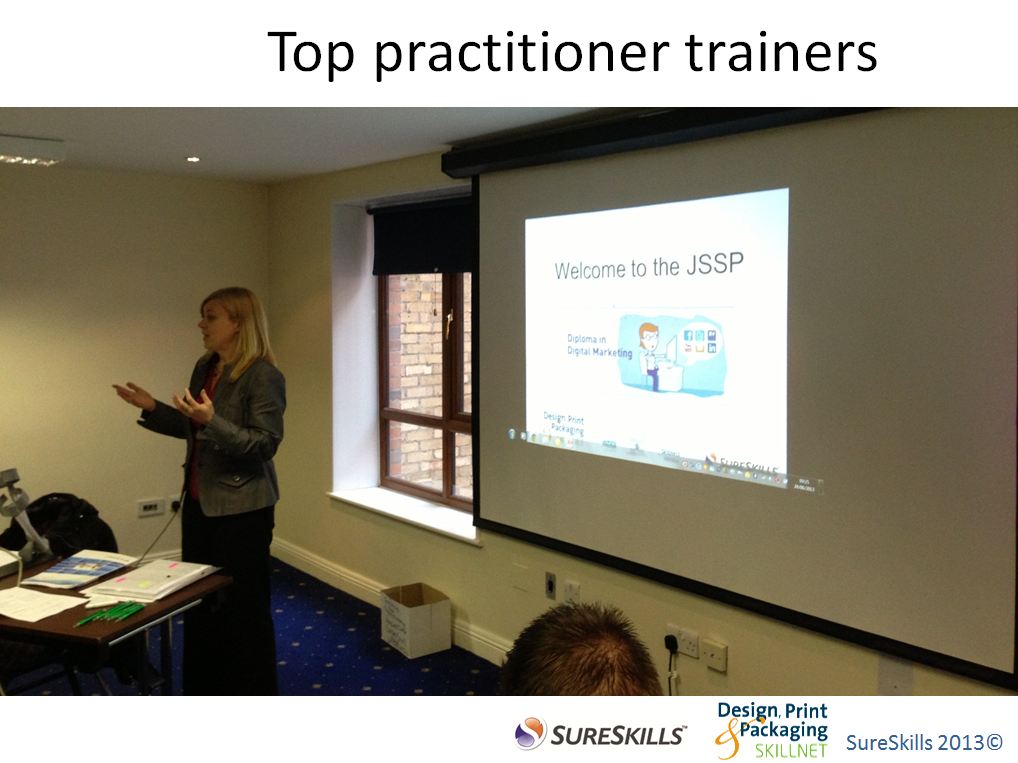 Sample of previous course testimonials:
'I found that the course was excellent! Even though the course is spread across 5 days albeit intensive days the lecturers managed to get all the relevant content and information that is required to begin a working career in the Digital area. The lecturers were great and really knew their stuff. All of the sessions were interactive and I particularly enjoyed Joanne Casey's lectures on Google Analytics, PPC and SEO. I would highly recommend this course to anybody looking to update their skills in the area of Digital Marketing.'
Louise Boland - Key Account Manager at Microsoft
'I took part in the SureSkills Digital Marketing course in November of 2012. It was an intensive learning experience from which I greatly benefitted. I now feel I have a comprehensive knowledge of social media, which I can highlight in interviews, as well as bring to the fore in the workplace. The programme directly helped me gain a place in an exciting digital marketing company.'
Peter Monaghan – Doc Morris Ireland
'I found the course extremely informative and interesting. Once I finished it I had learnt a lot in digital marketing area that will definitely help my career progression into the future. In fact from the course I secured a job and the skills I learnt on the course can be directly transferred to my new role. I would highly recommend this course to anyone that is interested in this area.'
Gary Dempsey - Morgan McKinley