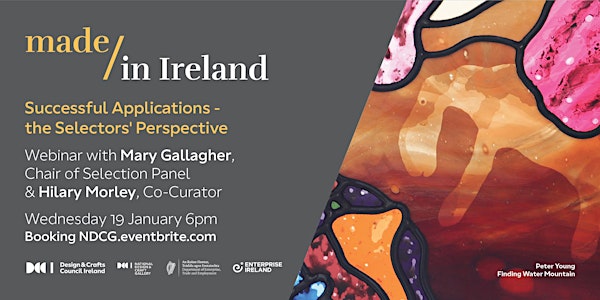 Successful Applications - the Selectors' Perspective, online webinar
Successful Applications - the Selectors' Perspective, online webinar
About this event
Made In Ireland celebrates the wealth and vibrancy of Ireland's studio crafts. The exhibition presents work by over 110 craftspeople each creating beautiful, considered objects using skills honed over many years.
The exhibition is on in the DCCI National Design & Craft Gallery, Kilkenny until 30 January.
Successful Applications - the Selectors' Perspective
This online webinar will be led by Mary Gallagher of Blue Egg Gallery Wexford, Project Manager and Chair of the selection panel for the exhibition Made in Ireland. She will outline key attributes that are common to successful applications, with examples from the exhibition and elsewhere.
Topics will include:
- Originality of idea
- Clarity of creative vision
- Consistency of practice
- Quality of work & track record
Preparation of text for longer questions will be discussed, along with the suitability of photography and asking a third party to read your application before it is sent.
Hilary Morley, one of the curators of Made in Ireland, will also contribute.