Description
Join us for a Panel discusstion on this International Women's day with some of Dublin's most inspirational females and find out what it takes to get to the top!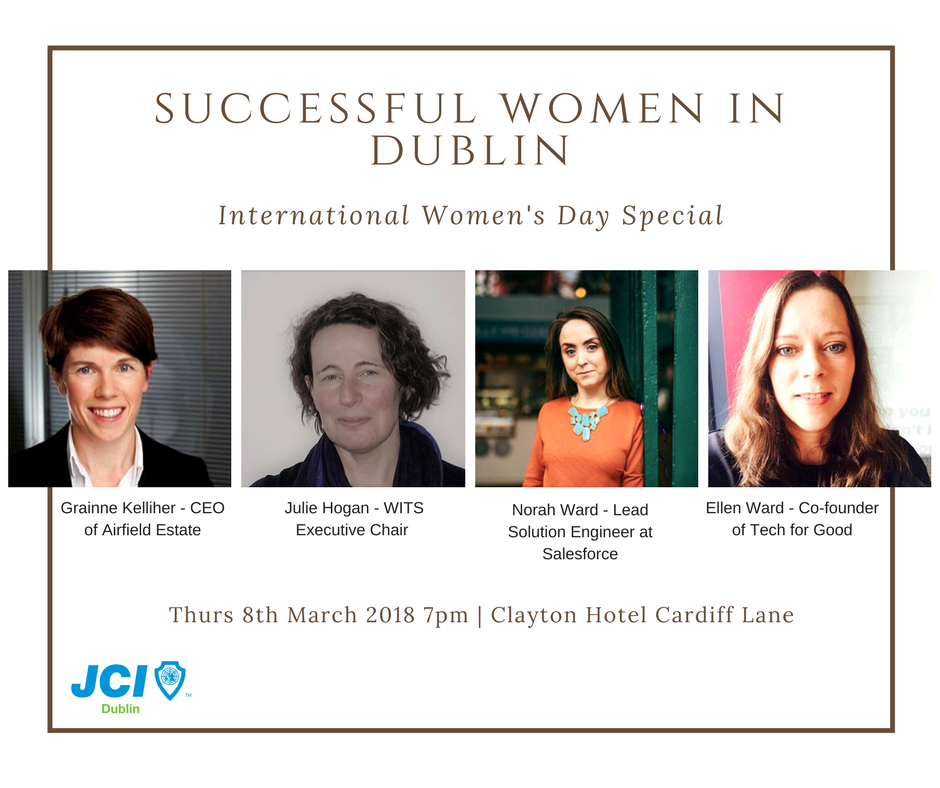 Who will be there
Grainne Kelliher from Airfield Estate

After 25 years in the corporate world (from Disneyland Paris to Quinlan Private to Aramark) Grainne took up the role as CEO of Airfield Estate to establish it as a place that inspires people to connect with the land and the food it produces by using Airfield's farm, gardens and natural surroundings to deliver highly enjoyable experiences and opportunities for active learning.he is driven to preserve and sustain Airfield Estate for future generations whilst always being true of the wishes of Letitia and Naomi Overend, who set up the charitable trust in 1974.
Grainne grew up on a dairy farm in Kerry and is passionate about all things food, from production to consumption to waste. She believes it is one of the biggest challenges facing the world at present, a challenge she believes we all need to play our part in solving.
Julie Hogan from WITS (Women in Technology and Science)
Julie Hogan studied Electronics Engineering in NIHE Limerick and Electronic Systems in DCU, and has been working in R&D for the past 30 years in Ireland and abroad.
Currently she runs a small R&D team in Memjet Ireland, Dublin, with a team of 17 scientists and engineers (4 of whom are women) working on digital print engine controller and software design, and MEMS printhead design. Her current role combines technical, project management and management responsibilities, and she has previously worked in all three areas at different times for ARM in Cambridge, ParthusCeva in Dublin, Silicon and Software Systems (S3) in Dublin and AT&T in Bray with secondments to the Netherlands and Australia.
Ellen Ward is the IT Solutions Coordinator at Concern Worldwide where she manages a portfolio of technology projects covering all 26 countries of operation. Since starting 2007 this work has involved a wide range of technologies including building an intranet; moving from paper to mobile surveys; creating maps built using satellite imagery; designing solar lighting solutions; and tracking security incidents to improve staff safety. Ellen is a qualified Project Manager (Prince2 and PMI Agile) and has an MSc in Communication and Culture Studies from DCU. Prior to the role at Concern she worked in the corporate sector as an IT Project Manager in Virgin Atlantic, IBM, Accenture and DIT.
In February 2017, Ellen met a like-minded business woman called Máirín Murray and together they co-founded Tech for Good Dublin. It is part of a global movement to focus on the positive social impact made possible by emerging technologies. The Dublin group has held 10 events on topics such as Design Thinking, Virtual Reality, Digital Mapping, App Design and Smart Cities. Open to everyone, the group of more than 800 people includes techies and non-techies and has a strong gender balance (women approx. 45%) with member ages ranging from 18 to over 65. Setting up the group has been a fantastic experience so far and in 2018 Tech for Good Dublin will publish a statement on direction and goals which Ellen is currently working on.
Norah Ward from Salesforce
Norah Ward is a Lead Solution Engineer at Salesforce. She is a firm believer that portfolio careers are the best way to maximise our potential for success. She studied Film and Modern Irish language at Trinity College Dublin, before embarking on her M.Sc. in Creative Digital Media at Dublin Institute of Technology. She has navigated her career from photography, to politics and business consultancy, before finding a career that offers every opportunity for autonomy, creativity and innovation. She currently works with some of the biggest names in consumer business to help them create rich experiences for their customers. When she's not doing that, she's trying her hand at flying drones, painting watercolour and travelling.
Organiser of Successful Women in Dublin
JCI Dublin – is a voluntary personal development organisation for young, enthusiastic professionals and entrepreneurs, who live in the Dublin area. Being from various different countries, many different fields of expertise and backgrounds, we empower young people to create positive changes within trade, commerce, community and culture, locally and internationally, while expanding our professional and personal potential.