Summer School in Applied Psychology: Meeting 21st Century Challenges of Rec...
Description
NEW! In addition to the 5 day event This year we are offering a 1-day workshop on Resilience and Recovery in Sport Systems with international speakers Prof. Paul Wylleman (expert on sport transitions), Dr Mustafa Sarkar (renowned researcher on resilience) and Prof. Juergen Beckmann (expert on psychological recovery and well-being). Wednesday 10th July 10-5pm.
In 2018, we at the Dept. of Physical Education and Sport Scieces, University of Limerick, hosted 30 attendees at our inaugural Summer School (accredited by PSI) on Professional Practice and Ethics in Applied Psychology. International experts, again a focus this year, provided stimulating interactive sessions. The theme this year explores how sport, organisations and society can learn by applying models of psychological recovery, cultivating resilience and promoting an understanding of psychological literacy. The event should be of interest to practitioner psychologists (e.g. clinical, sport, health and organisational), health promotion and well-being personnel and those working in high performance settings.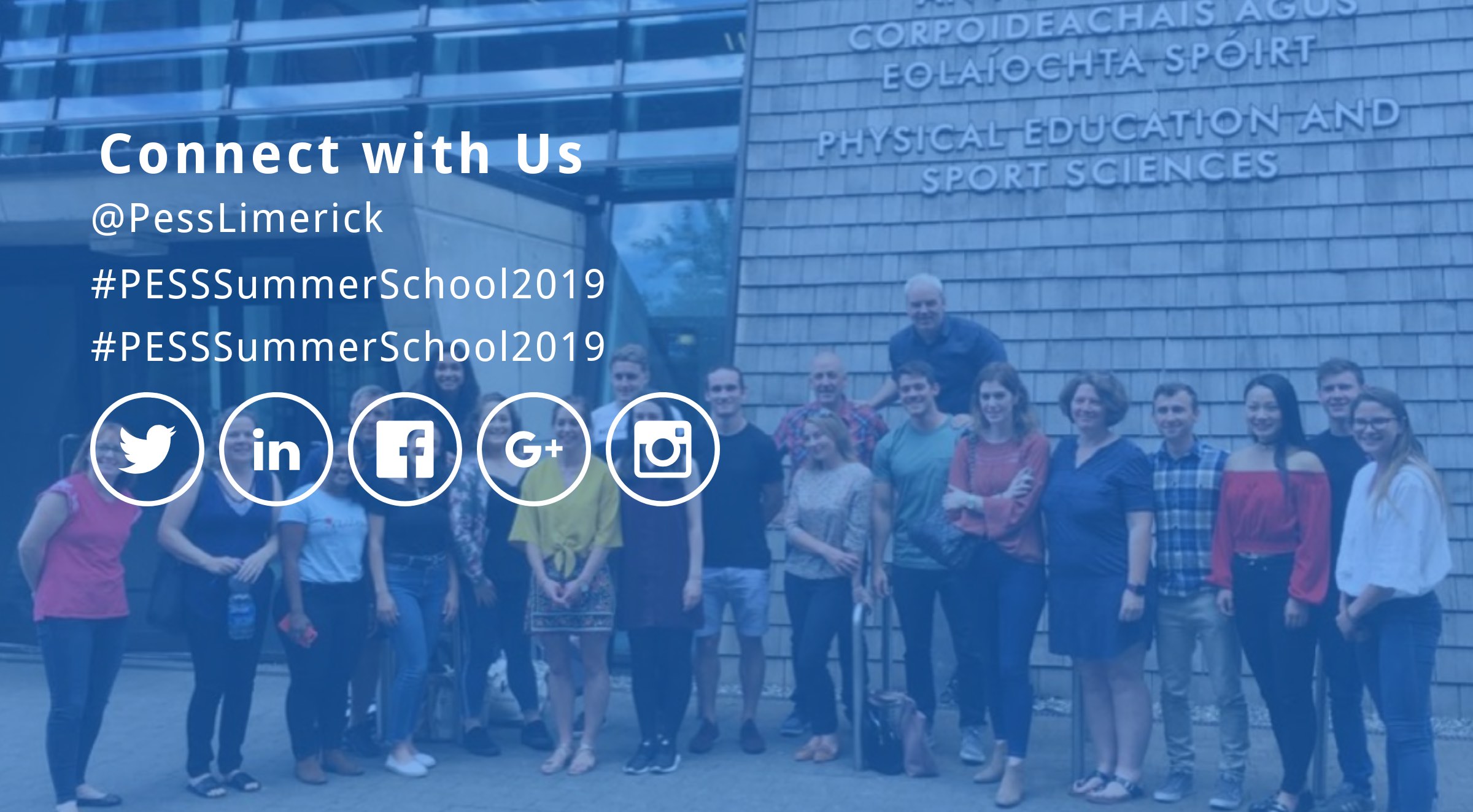 What is the theme?

The theme of this second Summer School is 'recovery, referral and resilience' and it aims to share and discuss practice and innovation in supporting athletes, coaches, sport managers and sport science support staff with particular experiences drawn from case studies, world leading research and personal narratives.
Who Should Go?
All are welcome to register and join the interdisciplinary event which is of particular interest to:
1. Those applying psychology with team, individuals and consulting in sport systems.
2. Development officers in sport NGB's, and local sport partnerships,
3. Graduate students in sport science, sport psychology, sports coaching and sport management.
4. Trainee and practitioner psychologists in sport, organizational and coaching psychology,
5. Leaders working in high performance and developmental sport.
6. Those promoting injury recovery including specialists in physiotherapy, sport medicine and allied health disciplines,
7. Researchers in mental health well-being and health promotion.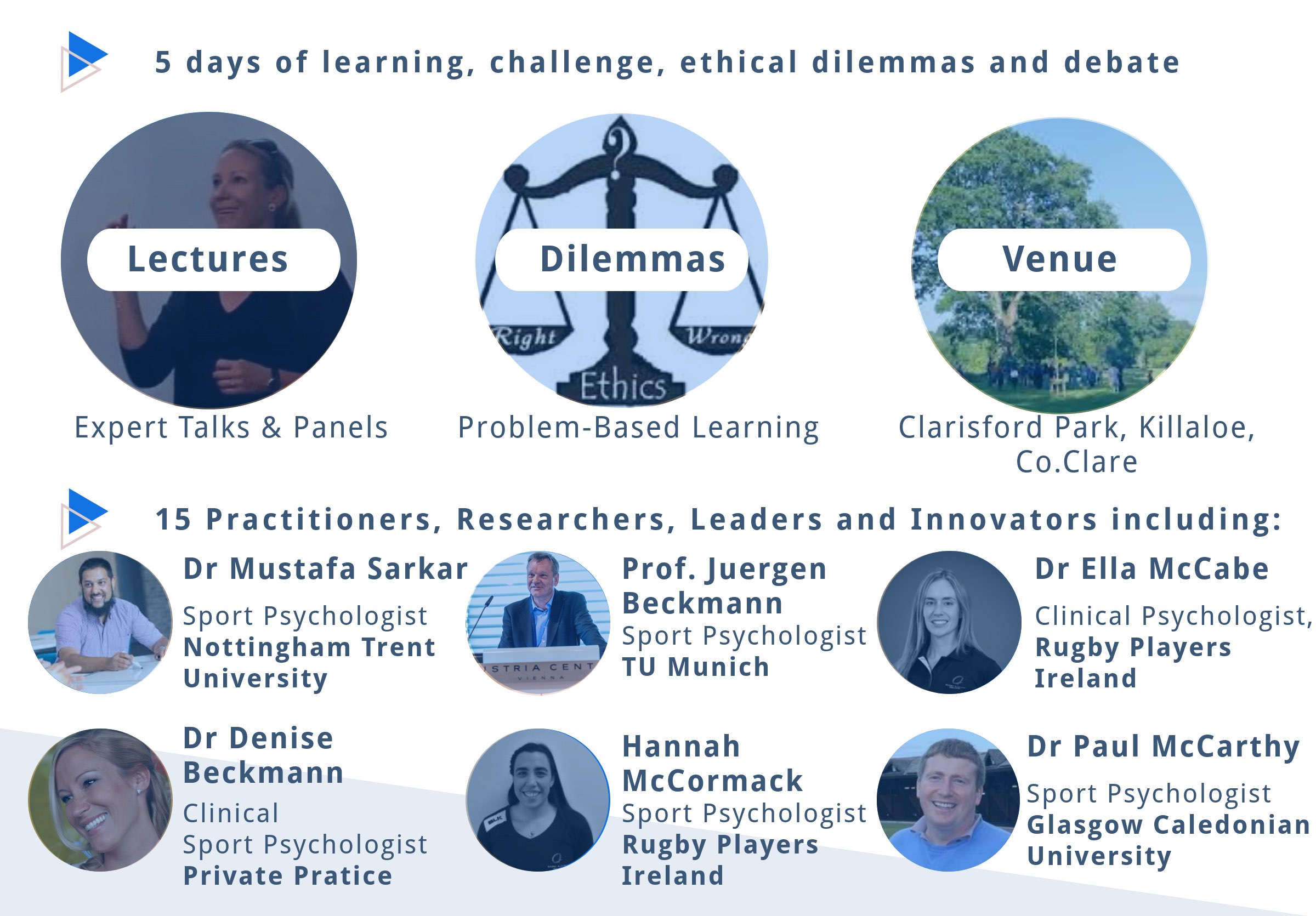 Who is Speaking?
Confirmed Speakers include clincial, sport psychologists and an expert panel of leaders in sport systems from international sport systems.
Dr Mustafa Sarkar, Nottingham Trent University, is a senior lecturer, applied practitioner and expert in resilience development and measurement in sport systems.
Prof. Juergen Beckmann, Technical University Munich, a leading authority on mental health and well-being among sporting and athletic samples with over 4,000 citations of his learned work.
Dr Hannah McCormack, Rugby Players Ireland, is an expert on practitioner well-being, work-related stress and work engagement.
Dr Paul McCarthy, Glasgow Caledonian University, leads the Professional Doctorate program and is a HCPC registered practitioner sport psychologist with expertise in counselling approaches in sport psychology.
Dr Ella McCabe, Rugby Players Ireland, is a clinical psychologist and expert on mental health, referral and well-being promotion.
Prof. Paul Wylleman, Vrije Universiteit Brussels, is a clinical sport psychologist, world-expert on transitions in sport and leads the Team Netherlands NOC psychology division.
Dr Alan Ringland, Institute of Technology Tralee, is a lecturer in sport psychology and former Paralympic Sport Psychologist 2004-2012.
Clogah Butler MSc, University of Limerick, is a doctoral candidate and KBS scholar researching resilience in in sport.
Dr Robert Vaughan, York St. Johns University, is a senior lecturer in sport psychology and an expert in psychometrics in sport psychology.
Jessie Barr MSc, University of Limerick, is a doctoral candidate and IRC Scholar researching mental health stigma in sport.
Further speakers will be announced shortly.
What is the format of the Event?
1. NEW!! The one day workshop comprises four keynotes, four practical sessions, and case-study problem based learning. Wednesday 10th July 10-5pm.
2. The five-day Summer School will follow the following daily format:
1000 Two Keynote Talks
1115 Coffee/Tea Break
1130 Challenges in Application
1230 Case Study Problem Based Learning Case Studies
1300 Lunch
1400 Case Study Formulation and Implementation by attendees
1500 Panel Discussion: Reflections and Lessons Learnt
1530 Walk and Talk in Teams
1600 Keynote on Novel Approaches
1645 Panel Discussion: Reflections and Lessons Learnt
1700 Wall of Knowledge: What you learnt today
FAQs
Is lunch provided?
Lunch is provided on-site daily and if you require a gluten free, vegetarian or vegan option or have any specialist food requirements please contact us via email (tadhg.macintyre@ul.ie). Tea/coffee is also provided each morning.
Where to stay and find sustainable food?
The Lakeside Hotel & Leisure Centre sits on the banks of the majestic River Shannon with stunning views of the twin heritage towns of Ballina in Co. Tipperary and Killaloe in Co. Clare. Our award-winning gardens provide the ideal backdrop to the tranquil beauty of Lough Derg and swimming pool and leisure centre keep the most active fit.
Airbnb Church Street Killaloe Modern charming ground floor studio apartment in the heart of Killaloe next to all restaurants, bars, activities + much more. Killaloe is perfect getaway for foodies, watersport enthusiasts, hikers, bikers + everything in-between. I am happy to recommend all my favourite spots!
Twin towns of the Lough Derg-Killaloe, County Clare, Ireland and Ballina, County Tipperary are situated on the banks of the River Shannon, and best known as the birthplace of Brian Boru (c. 941 - 1014), and High King of Ireland (1002 - 1014). While Brian was High King, he ruled from Killaloe making it the "Capital of Ireland."
How can I contact the organiser with any questions?
Please email tadhg.macintyre@ul.ie

Call Tadhg MacIntyre +353 (087) 8393630
or Maeve Gleeson +353 (061) 202896
What are my environmentally transport/parking options for getting to and from the event?
Travelling by Air
Shannon International Airport is only 56kms from Clarisford Park, Killaloe, Co. Clare making Limerick accessible direct from a range of European destinations and world wide through the hub of London Heathrow. See Shannon International Airport for a full list of flights to and from Shannon. Flights to Dublin airport are well connected with Limerick by for example the M7 bus (www.dublincoach.ie).
Travelling by Car from Shannon Airport
If you decide to rent a car from the airport the best route to get to Clarisford Park (approx. 56k) and only 25 k from University of Limerick) by road can be found by logging onto this route planner.
Travelling by Bus
Bus Eireann provide connections to and from all Ireland's major cities, including Limerick. Telephone 353 (0)61 313333 for more information. The service offered by Bus Eireann runs from Shannon Airport to the main Limerick City bus station, Colbert Station, Parnell Street, Limerick. This bus departs at least once every hour from the Airport and costs approximately €5.30 one way. For a detailed timetable you should log onto www.buseireann.ie, and click on Airport Services. The last bus departs daily at 00h00 (midnight).
JJ Kavanagh & Sons, provides a service between Shannon Airport and 3 stops in Limerick, Arthurs Quay in the City Centre, outside the Main Gate of the University (Flagpoles of UL) or to the University (main campus bus stop). Tel: +353 (0)56 8831106. For a detailed timetable log onto www.jjkavanagh.ie, select Route "Shannon Airport - Limerick - Nenagh - Portlaoise - Kildare - Dublin City - Dublin Airport" timetable.
Useful Travel Links
Travelling by Sea
Ferry services operate from the UK and France and you can easily make a ferry booking enquiry online. Irish Ferries offer ferry services from the United Kingdom, France and Scotland.