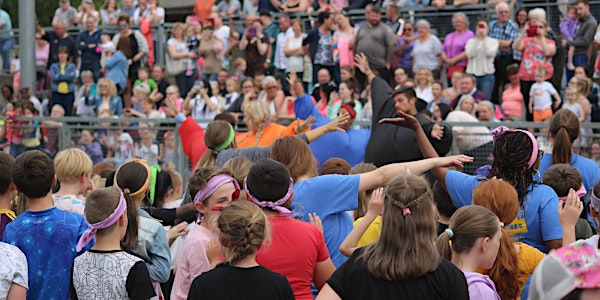 SuperKids Summer Camp 2021
SuperKids Summer Camp is BACK this summer!
When and where
Location
Astro Active Bellefield Enniscorthy Ireland
About this event
SuperKids Summer Camp 2021 will be a stripped back, modified version of our previous Summer Camps.
This year SuperKids Summer Camp will run for three days, Wednesday, 21st July to Friday, 23rd July from 10:00am to 1:00pm each day, in the Astro Active Centre, Enniscorthy. Get directions.
SuperKids Summer Camp is open to all registered participants 5-12 years old. All 5 year olds must have completed at least one year in Primary School.
In line with Government Guidelines, SuperKids Summer Camp will have a very limited number of attendees, so make sure you register your kids soon to avoid disappointment.
The cost of SuperKids Summer Camp registration is €10 per child. Registration will take place online this year.
Our camp this year will take place primarily outside (with the exception of toilet facilities). Camp will be cancelled if the weather does not permit outdoor activities. In the event of summer camp being cancelled, you will be refunded in full minus the Eventbrite service charge, which is unfortunately non-refundable. Refunds will only be made in the event that Summer Camp is cancelled for all three days.
Kids can start arriving from 9:40am and the camp programme will officially start at 10:00am.
The camp ends each day at 1:00pm. Parents/ Guardians need to pick their kids up at 1:00pm sharp. No child will be allowed to leave the camp without a parent.
This years Summer Camp will run strictly in line with current Government COVID-19 Guidelines. View our COVID-19 Protocols.
Terms & Conditions:
Places are allocated on a first come first served basis.
Photographs/ videos may be taken for promotional reasons.
Refunds will only be made in the event that Summer Camp is cancelled for all three days.
SuperKids Summer Camp will be operated to the highest safety standards; we shall not be responsible for any accidents or loss of personal property.
Permission is granted to receive medical treatment in the event of an accident. A First Aid worker will be available.
In the event of Camp being cancelled last minute due to weather or other COVID-19 related reasons, you will receive a text message or email.
Registration details will be used in relation to the welfare of your child and for COVID-19 contact tracing purposes.
Payment is regarded as acceptance of the registration conditions.
SuperKids Summer Camp will be responsible for your kids having a great time!