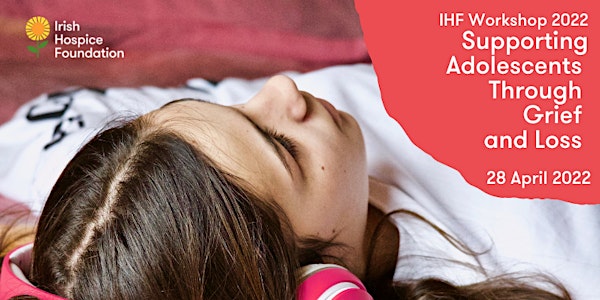 Supporting Adolescents through Grief and Loss
This workshop will examine the factors that influence an adolescent while grieving.
Refund Policy
Refunds up to 7 days before event
About this event
Description
Bereavement and loss in the life of an adolescent is seen as off time and demands the reorganisation of their assumptive world and how they view themselves, others and life. It evokes grief responses which can be intense. The most frequent deaths adolescents experience are those of parents, siblings or peers. The responses to their loss will depend on their age, the nature of the death, their relationship with the deceased, their personalities, how the family grieves and the changes the death creates in the family. This workshop will examine the factors that influence an adolescent while grieving, explore the impact of various types of loss on the adolescent, discuss the various styles of intervention that might help engage the bereaved adolescent in processing their loss and examine programmes that might be used with bereaved adolescents. The workshop will combine theory with experiential work and will allow for discussion of the difficulties which arise while engaging adolescents with their grief
Learning Outcomes
On completion of the workshop participants will be able to:
• understand aspects of bereaved adolescents and how they function
• expand the toolkit for professionals who work with this age group
• examine social change and its impact on bereaved adolescents
Presenter Profile
Brid Carroll Coming from an educational background Brid is a qualified Psychotherapist and Counselling Supervisor with a special interest in bereavement and loss. She holds a Masters in Bereavement Studies from RCSI Dublin and a Postgraduate Certificate in Childhood Bereavement from St. Christopher's Hospice London. Brid is presently working in the south east with families and children experiencing loss through bereavement, illness and separation. She is a contributor to the Irish Hospice Foundation's workshop series and Professional Certificate in Children and Loss. Brid is presently the Chair of the Advisory Committee of the Irish Childhood Bereavement Network and a member of the Steering Committee of the Family Bereavement Network of Europe. She has provided information talks throughout Ireland on grief and loss and has worked with many parents, families and children who are grieving the loss of their child, parent or sibling.