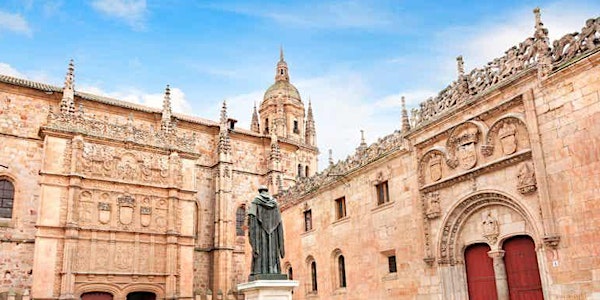 Supporting Culturally Responsive Evaluation and Leadership in Schools
International symposium: Supporting Culturally Responsive Evaluation and Leadership in Schools
About this event
International Symposium
2nd March 2022
Policy and Practice
Supporting Culturally Responsive Evaluation and Leadership in Schools (CRELES)
Cases Across European Frontiers
Introduction and Background
This hybrid symposium hosted by the University of Salamanca in collaboration with EQI - The Centre for Evaluation Quality and Inspection DCU Institute of Education, Moscow City University and Johannes Kepler University is derived from a three-year Erasmus plus European Union funded project entitled 'Culturally Responsive Evaluation and Leadership in Schools' (CRELES) that commenced in September 2019 and concludes in September 2022. The symposium focuses on the support and strategies needed in all levels of school leadership in order to facilitate the needs of culturally diverse student populations.
The symposium is free to attend and consists of the presentation and exposition of a series of research papers, workshops and resources derived from the project.
This symposium will be of interest to Teachers, School Leaders, Teacher Educators, Researchers, Initial Teacher Education Students/Institutions, Ministries and Directorates of Education as well as Trans-National Organisations.
If you are attending the event online you can register for the event at the following Link
The conference organising committee look forward to welcoming you to the event.
Agenda in Spanish Time
09.30 – 10.00
Registration
10.00 – 11.00
Welcome Address
José Miguel Mateos Roco - Vice-Rector, Vicerrectorado de Investigación y Transferencia, University of Salamanca
María José Rodríguez Conde - Vice-Rector, Vicerrectorado de Calidad y Enseñanzas de Grado, University of Salamanca
Keynote Address 1: School Leadership in Spain within the LOMLOE legislative framework - El liderazgo directivo en España en el marco legislativo de la LOMLOE
Ángel Miguel Morín Ramos - Educational Director for the province of Salamanca, Junta de Castilla y León
Keynote Address 2: Educational Leadership for Social Justice - Liderazgo educativo para la Justicia social
Francisco Javier Murillo Torrecilla - Director of the UNESCO Chair in Education for Social Justice, Universidad Autónoma de Madrid.
Keynote Address 3: Introduction and Background to CReLES - The increasingly central importance of Culturally Responsive Evaluation and Leadership in Schools
Martin Brown - CReLES Project coordinator, EQI, School of Policy and Practice, DCU Institute of Education
11.00 – 11.15
Coffee Break
11.15 – 12.15
Exploring Culturally Responsive Leadership in Four European Countries – Austria, Ireland, Russia and Spain
Sarah Gardezi - EQI, DCU Institute of Education
A Comparative School-based Survey of Culturally Responsive Practices in Ireland, Austria, Spain and Russia
Igor Shiyan - Moscow City University
Case study analysis of Culturally Responsive Evaluation and Leadership in four European Countries
María José Rodríguez Conde and Lourdes Sancho Otero – University of Salamanca
Culturally Responsive Leadership in Schools. A Conceptual Framework
Sieglinde Fulterer and Barbara Herzog-Punzenberger - Johannes Kepler University
12.15 – 12.45
Questions from the audience to the CReLES team
Moderator: Joe O'Hara, EQI, School of Policy and Practice, DCU Institute of Education
Concluding remarks and CReLES Moving Forward
Martin Brown - EQI, School of Policy and Practice, DCU Institute of Education
12.45 – 13.00
Close of conference
Valentina Zangrando - University of Salamanca