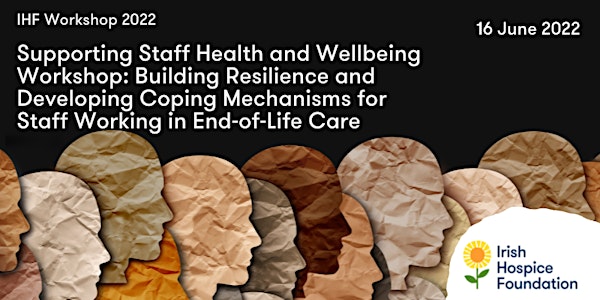 Supporting Staff Health and Wellbeing who are Working in End-of-Life Care
This workshop is for healthcare staff who encounter death as a regular part of their work environment.
Refund Policy
Refunds up to 7 days before event
About this event
This workshop is for healthcare staff who encounter death as a regular part of their work environment for example those working with people who are dying, or have died, and their families. The aim of the session is to provide an opportunity for staff to reflect on, and understand, the potential impact this work may have on them. The learning module will explore ways of developing and building resilience and supporting wellbeing in the workplace.
Topics covered in this course include:
the impact of working in end-of-life care on staff
the impact of Covid-19 on end-of-life care for healthcare staff
how grief and loss can impact on staff
workplace coping strategies
self-care
practicing self-care techniques
Learning Outcomes
On completion of the workshop participants will be able to:
recognise the impact that working in end-of-life care can have on you
identify the impact that Covid-19 has had on your work
identify the impact that loss and grief can have on you
recognise when you need to seek support
prioritise self-care when working in end-of-life care
implement practical solutions for personal self-care
create your own personal self-care/resilience plan
Presenter Profiles
Kate (Power) Steele is the National Development Manager for Residential Care Settings. Kate leads a team in developing and implementation of the CEOL Programme. CEOL which stands for 'Compassionate End of Life' empowers all staff to provide the best end-of-life care for people living in residential care centres (RCC) in Ireland. Kate has over 30 years' experience in the healthcare and disability sector, working with the following organisations; Muscular Dystrophy Ireland (2005-2017), Headway Ireland (2002 -2005), GOAL – Sudan (1999-2001). She has a Masters in Rehabilitation & Disability Studies, a Higher Diploma in Health Promotion and is a qualified general and psychiatric nurse.
Mark Murphy is the Healthcare Regional Co-ordinator for Irish Hospice Foundation. With a background in Physical Therapy, he spent over 10 years working with people with disabilities and older adults in both the community and residential care. He joined Irish Hospice Foundation in 2018, Co-ordinating the Compassionate End-of-Life Care (CEOL) Programme in the south of Ireland and facilitating workshops such as "What Matters to Me", "Culture & Communication on End-of-Life" and "Final Journeys".