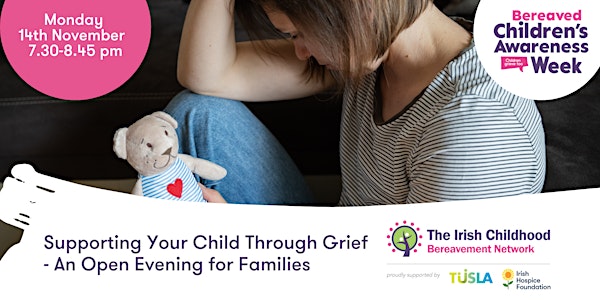 Supporting Your Child Through Grief - An Online Evening for Families
Public Awareness to support parents to talk to children about loss – psycho education and public awareness
About this event
This session is aimed at parents and family members supporting children who are experiencing grief to acknowledge that conversations with children about death and dying are hard, sometimes we need guidance and support to deal with the feeling and emotions that arise.
We will share information to help parents and family members understand how children and young people grieve and explore some of the common responses and reactions.
There will be an opportunity for questions to be submitted (anonymously - either in advance to icbn@hospicefoundation.ie or on the night via the zoom Q&A function)
Session Facilitated by Brid Carroll and Maura Keating ICBN.
Once you register for this event you will be sent the zoom details a few days in advance of the webinar through eventbrite.
You will need to have zoom downloaded on your laptop, phone or computer to join us (full details will be provided once you register)
PRIVACY : We understand that this subject can be very personal so please note that you will not be able to see or hear other attendees or they will not be able to see or hear you during the event. You will only be able to see and hear the speakers at the event.