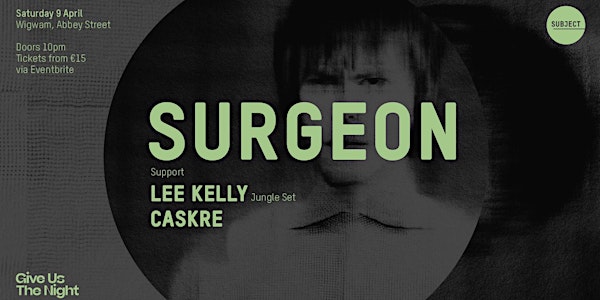 Surgeon, Lee Kelly & Caskre at Wigwam
Surgeon, Lee Kelly & Caskre at Wigwam
When and where
Location
Wigwam 54 Middle Abbey Street Dublin 2 Dublin Ireland
About this event
Surgeon
Subject at Wigwam
Sat 9th April 2022 - NEW DATE
Basement:
Surgeon
Lee Kelly [Jungle Set]
Caskre
Surgeon has been at the forefront of UK techno since 1994. His debut EP is regarded by many as seminal, launching his career along with several early Downwards releases, causing a ripple of excitement through the techno cognoscenti of the time. Surgeon has been prolific since, with three albums on Tresor and numerous Counterbalance and Dynamic Tension EPs as well as his 'Breaking The Frame', 'From Farthest Known Objects' and 'Luminosity Device' LPs "Over the course of his career, the Birmingham resident has perfected a unique and uncommonly effective production style. His is a tough techno sound with an industrial murk about it but also plenty of funk, swing and a sophisticated sense of dub-space learned in part from his Chain Reaction contemporaries in Berlin. Proving that hard can also be smart, sensuous and danceable, the influence of Surgeon on the 2010-ruling Ostgut/Berghain sound – DJs/producers like Marcel Dettmann, Shed et al – is substantial". (Fact Magazine)
Further evidence of these multi-functional production skills can be seen on Surgeon's impressive remix CV, working with the biggest names in techno (Dave Clarke, Luke Slater/PAS, Green Velvet, Hardfloor, the Black Dog etc), Thom Yorke (Radiohead), Glasgow post-rock outfit Mogwai, old masters Faust and Coil, as well as artists such Moderat, Shed, Traversable Wormhole and Scuba.
Over the years Surgeon has shown his versatility as a musician with releases under his own name on FatCat, NNA Tapes and Editions Mego which break all the usual boundaries of electronic dance music.
Recently dubbed by Fact magazine as "arguably the finest techno DJ in the world", Surgeon is also naturally one of the most in-demand, with DJ mixes for Warp and Fabric and a schedule spread across Europe and Japan. He has played every key club/event/festival going; helped pioneer Birmingham's House of God; and, held a 3 year residency at Tresor (Berlin) during its all powerful 1990s peak. He is also one half of the much loved BMB (British Murder Boys) with Regis as well as performing improvised live sets solo and with Lady Starlight, with Speedy J as 'Multiples' and alongside Daniel Bean as 'The Transcendence Orchestra'
Contemporary Surgeon sets are notable for experimentation with new DJ technologies embracing cutting edge hardware and software solutions, increasingly blurring the line between a DJ set and a live performance. Surgeon is a selector of some skill and one of the most inventive, intuitive DJs out there. Using techno as a vehicle to carry his artistic message, he also mixes up everything from contemporary bass music/dubstep to Rephlex-esque electronica to create a coherent, intense and righteously banging whole. More recently live improvisation has become a more important part of all of his performances. #subject15