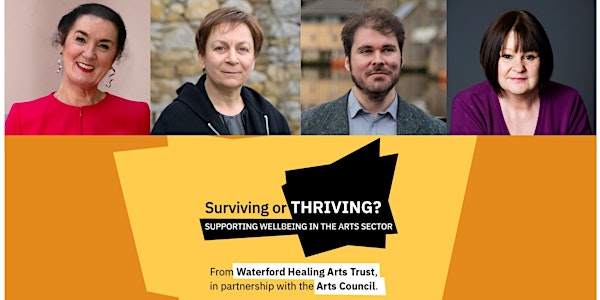 Surviving or Thriving? Supporting wellbeing in the arts sector: Literature
An online series from Waterford Healing Arts Trust in partnership with the Arts Council seeking to promote wellbeing in the arts sector.
About this event
Panel Exchange 1: Literature
Monday 15 March, 10.30am (online)
Chair: Dr Maureen Gaffney
Speakers: Writers Anne Enright and Helena Close, and poet Stephen Sexton.
Part of an online series of panel discussions, workshops and resources seeking to strengthen resilience, restore confidence and promote connectedness across the arts sector.
Adm free but booking essential. Book your place for the Literature Strand on this page. All who register for this event will receive the zoom link by email the evening before the event.
See below for info about the entire Surviving or Thriving? programme.
About the speakers:
Anne Enright is one of our leading writers.  Her most recent books are No authority: Writings from the Laureateship (UCD Press) which is a collection of essays and short stories, and a novel Actress (Jonathan Cape).  She is a Professor of Creative Writing at UCD.
Described by The Irish Times as "a born storyteller", Limerick native Helena Close has been writing full time for the past 20 years.  She has published eight novels, four of which were co-written. Her latest novel, The Gone Book, was published in April 2020 and was nominated for the Carnegie Award 2021, shortlisted for An Post YA Novel of the Year and chosen for inclusion in EmpathyLab UK's 2021 selection. Her short story Then They Came For The Cats was shortlisted for the prestigious Bridport International Short Story Prize 2020.  Her play Red Army, co-written with Marie Boylan, will be staged in the Lime Tree Theatre, Limerick this September.   Helena is currently working on her fifth novel and a collection of short stories.  She holds a Masters (first class honours) in Creative Writing from University of Limerick.  She is Munster Rugby obsessed, loves cats and dogs and sometimes people.
Stephen Sexton's first book, If All the World and Love Were Young was the winner of the Forward Prize for Best First Collection in 2019 and the Shine / Strong Award for Best First Collection. He was awarded the E.M. Forster Award from the American Academy of Arts and Letters and the Rooney Prize for Irish Literature in 2020. He was the winner of the National Poetry Competition in 2016 and the recipient of an Eric Gregory Award in 2018. He teaches at the Seamus Heaney Centre at Queen's University, Belfast.
Scroll down or click here for more info on Surviving or Thriving?
WORKSHOP: A follow up workshop with poet Lani O'Hanlon entitled 'Slowing down as a source of creativity' exploring self-care for writers and others working in the literature sector takes place on Tues 16 March at 10.30am. **UPDATE: This workshop is fully booked. More details here
Our sincere appreciation to our associate organisation Words Ireland for their support and guidance in curating this Literature strand together.
Surviving or Thriving? Arts Council and Waterford Healing Arts Trust announce innovative online series to support the wellbeing of the arts sector in Ireland
The Arts Council/An Comhairle Ealaíon and Waterford Healing Arts Trust (WHAT) have announced details of an innovative new online series designed to support the wellbeing of arts professionals in Ireland, with particular relevance to the present Covid-19 pandemic. Entitled Surviving or Thriving?, the series of panel discussions, workshops and podcasts, which is open to all those working in the arts in Ireland and is free of charge, aims to strengthen resilience, restore confidence and promote connectedness across the arts sector. The programme features panel exchanges chaired by psychologist Dr Maureen Gaffney, with guest speakers from a range of art forms, including writer Anne Enright, musician Eleanor McEvoy and artist Austin Ivers, in addition to follow-up workshops and online resources exploring self-care and wellbeing. Surviving or Thriving? takes place over three weeks from 15 March to 01 April 2021, with podcasts and other online resources available ongoing. Admission is free, but booking is required. Further details and booking links for all events from www.artscouncil.ie and www.waterfordhealingarts.com
Surviving or Thriving? has been developed in response to the cessation of arts activity due to the Covid-19 pandemic. Covid-19 has had a profound professional and personal impact on artists and arts workers, with major structural impacts for organisations. Artists and arts workers from across the arts sector in Ireland provided a myriad of real-life examples of the effect the pandemic has had on their wellbeing to the Arts Council for its report Survive Adapt Renew. Among its recommendations the report included commitments to building resilience, inclusion and sustainability in the sector as it faces into the future.
Each element of Surviving or Thriving? seeks to inspire and support, while acknowledging current challenges and realities. Recognising the need to break through the saturation of online events available and to offer real value to the target audience of arts professionals, WHAT has been liaising with national and regional art form and development organisations who have offered their expertise and guidance in developing the programme and putting together a high calibre line up of speakers. These organisations include Music Network, Visual Artists Ireland, Theatre Forum, Words Ireland, Create, Age and Opportunity, Minding Creative Minds and Dance Limerick.
Speaking at the announcement of details, Maureen Kennelly, Director of the Arts Council, said: "These past 12 months have been extraordinarily difficult for people across the arts landscape. Alongside their own cares and concerns for family and friends, they have been dealing with the shocking cessation of activity and the resulting loss of income. We continue to support individuals and organisations through various schemes and initiatives, and we hope that this new programme with WHAT will provide further vital support to this brilliant profession."
Claire Meaney, Director of Waterford Healing Arts Trust, added "Waterford Healing Arts Trust is very pleased to be working with the Arts Council on this important initiative to support the wellbeing of arts professionals in Ireland. The overwhelmingly positive response we have received over the course of planning Surviving or Thriving? indicates the need that exists for this type of support. We are extremely grateful to all of the associate organisations who have so generously worked closely with us to present a strong programme which participants can engage with at different levels and which, we hope, will not only lift spirits but will nourish and encourage artists and arts workers to restore their confidence, foster their resilience and fall in love with their creativity all over again."
About the Arts Council: The Arts Council /An Comhairle Ealaíon is the Irish government agency for developing the arts. We work in partnership with artists, arts organisations, public policy makers and others to build a central place for the arts in Irish life. We provide financial assistance to artists, arts organisations, local authorities and others for artistic purposes. We offer assistance and information on the arts to government and to a wide range of individuals and organisations. As an advocate for the arts and artists, we undertake projects and research, often in new and emerging areas of practice, and increasingly in cooperation with partner organisations. artscouncil.ie
About Waterford Healing Arts Trust: Established in 1993, Waterford Healing Arts Trust (WHAT) is based at University Hospital Waterford (UHW) and brings arts experiences – music, creative writing, painting – to the bedsides of patients at the hospital and other healthcare settings in the community. WHAT believes that exposure to the arts softens the clinical environment and reduces anxiety and stress for patients, families and staff. WHAT believes the arts contribute to the wellbeing and vitality of society as a whole, including within healthcare settings, and that engaging with the arts stimulates the participant's sense of identity and creativity. WHAT is a leader in the national development of arts and health in Ireland and manages the highly regarded resource website www.artsandhealth.ie
The organisation operates from the WHAT Centre for Arts and Health, the first of its kind in Ireland, on the grounds of UHW, enabling the org anisation to bridge its work between the acute hospital setting and the wider community. WHAT is a registered charity and is core funded by the Arts Council, HSE and Department of Social Protection. Additional funding is provided by Waterford City and County Council, Punchestown Kidney Research Fund, the Ireland Funds and the National Lottery. WHAT raises additional funding through sponsorship and fundraising initiatives. www.waterfordhealingarts.com
ENDS