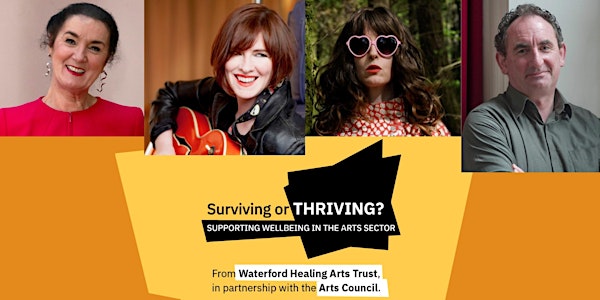 Surviving or Thriving? Supporting wellbeing in the arts sector: Music
An online series from Waterford Healing Arts Trust in partnership with the Arts Council seeking to promote wellbeing in the arts sector.
About this event
Panel Exchange 5: Music
Monday 29 March, 10.30am (online)
Chair: Dr Maureen Gaffney
Speakers: Songwriter and performer Eleanor McEvoy, composer Jennifer Walshe and Tony Sheehan, Director of Triskel Arts Centre.
Part of an online series of panel discussions, workshops and resources seeking to strengthen resilience, restore confidence and promote connectedness across the arts sector.
Adm free but booking essential. Book your place for the Music Strand on this page. All who register for this event will receive the zoom link by email the evening before the event.
See below for info about the entire Surviving or Thriving? programme.
About the speakers:
Eleanor McEvoy is one of Ireland's foremost songwriters. She is the composer, co-performer and producer of A Woman's Heart, the title track for the biggest-selling Irish album in Irish history. Eleanor began her career as a session musician in Dublin, playing for numerous recordings and artists including U2, Sinead O'Connor and Mary Black. She was also a violinist with the National Symphony Orchestra of Ireland for five years, but her real passion was songwriting. Eleanor released her eponymous debut on Geffen records in LA and moved to Columbia Records in New York for her second album What's Following Me? Since then, Eleanor has gone on to become an artist and performer known throughout the world. Her critically acclaimed canon of work spans sixteen albums.
There are numerous cover versions of her songs by performers such as Emmylou Harris, Mary Black, Phil Coulter, Mary Coughlan, Eliza Carthy, Jack L, Derek Ryan and up and coming Irish band Saint Sister. In February 2020, McEvoy completed four sold out concerts at the National Concert Hall and National Opera House, where she performed with the RTE Concert Orchestra. Two days after the concerts, she travelled to Australia for a five-week tour, which was sadly was cut short due to Covid-19. All her remaining dates for 2020, including an extensive German tour, also had to be cancelled. On 13th November 2020 she released Scarlet Angels, the first single from her new album recorded during lockdown. She wrote the song just after the February concerts with Wallis Bird and Maura O'Connell. "The concerts were amazing. We wore red on stage and raised the roof – a thousand voices sang along. It was a joy."
Aside from her touring and recording commitments, McEvoy is the Chair of the board of IMRO and in October 2020 was appointed by Minister Catherine Martin to the Task Force for the Recovery of the Arts. Her new album Gimme Some Wine is due for release in July 2021. www.eleanormcevoy.com
"The most original compositional voice to emerge from Ireland in the past 20 years" (Irish Times) and "wild girl of Darmstadt" (Frankfurter Rundschau), composer, performer and Dublin native Jennifer Walshe's music has been commissioned, broadcast and performed all over the world. She has been the recipient of fellowships and prizes from the Foundation for Contemporary Arts, New York, the DAAD Berliner Künstlerprogramm, the Internationales Musikinstitut, Darmstadt and Akademie Schloss Solitude, among others. Walshe has written a number of operas and theatrical works, including XXX_LIVE_NUDE_GIRLS!!! an opera for Barbie dolls, and TIME TIME TIME, with the philosopher Timothy Morton, which the Wire described as "a sprawling opus that spans the history of the planet… like Robert Ashley meets Monty Python's The Meaning of Life". Her visual work has been exhibited in the Chelsea Art Museum, New York, Project Arts Centre, Dublin and the ICA, London. Walshe is currently Professor of Experimental Performance at the Hochschule für Musik und Darstellende Kunst, Stuttgart. www.milker.org | www.aisteach.org
Tony Sheehan is Artistic Director and CEO of Triskel, Cork. Since his appointment in 2006, he has led the transformation of the organisation from a regional arts centre to a major cultural hub, incorporating Christchurch, which was annexed to Triskel in 2011 after a €5 million capital project was completed. Prior to this, Tony served as Arts Adviser to the Department of Arts, Sport and Tourism, and was a Programme Director and Director of Community Based Projects for Cork 2005: European Capital of Culture. Tony has had extensive experience in the arts over a thirty year period. Following an "apprenticeship" as Gallery Manager in Triskel Arts Centre in Cork from 1987-92, he served for 10 years from 1994 as Executive Director of the Fire Station Artists' Studios. He has served on the boards of several arts organisations, including Improvised Music Company (Dublin) and Spraoí (Waterford). Tony is a Fellow of the Royal Society of Arts and has been appointed as Fellowship Councillor for Ireland 2020-22. He lives in Youghal, County Cork. www.triskelartscentre.ie
Scroll down or click here for more info on Surviving or Thriving?
WORKSHOP: A follow up workshop with Grainne Hope, musician, Director of Kids Classics and Atlantic Fellow Global Brain Health Institute at TCD entitled 'Nurturing the Creative Mindset: Time & tools to support resilience and forward thinking' takes place on Tues 30 March at 10.30am. More details here
Our sincere appreciation to our associate organisations Music Network and Minding Creative Minds for their support and guidance in curating this Music strand together.
Surviving or Thriving? Arts Council and Waterford Healing Arts Trust announce innovative online series to support the wellbeing of the arts sector in Ireland
The Arts Council/An Comhairle Ealaíon and Waterford Healing Arts Trust (WHAT) have announced details of an innovative new online series designed to support the wellbeing of arts professionals in Ireland, with particular relevance to the present Covid-19 pandemic. Entitled Surviving or Thriving?, the series of panel discussions, workshops and podcasts, which is open to all those working in the arts in Ireland and is free of charge, aims to strengthen resilience, restore confidence and promote connectedness across the arts sector. The programme features panel exchanges chaired by psychologist Dr Maureen Gaffney, with guest speakers from a range of art forms, including writer Anne Enright, musician Eleanor McEvoy and artist Austin Ivers, in addition to follow-up workshops and online resources exploring self-care and wellbeing. Surviving or Thriving? takes place over three weeks from 15 March to 01 April 2021, with podcasts and other online resources available ongoing. Admission is free, but booking is required. Further details and booking links for all events from www.artscouncil.ie and www.waterfordhealingarts.com
Surviving or Thriving? has been developed in response to the cessation of arts activity due to the Covid-19 pandemic. Covid-19 has had a profound professional and personal impact on artists and arts workers, with major structural impacts for organisations. Artists and arts workers from across the arts sector in Ireland provided a myriad of real-life examples of the effect the pandemic has had on their wellbeing to the Arts Council for its report Survive Adapt Renew. Among its recommendations the report included commitments to building resilience, inclusion and sustainability in the sector as it faces into the future.
Each element of Surviving or Thriving? seeks to inspire and support, while acknowledging current challenges and realities. Recognising the need to break through the saturation of online events available and to offer real value to the target audience of arts professionals, WHAT has been liaising with national and regional art form and development organisations who have offered their expertise and guidance in developing the programme and putting together a high calibre line up of speakers. These organisations include Music Network, Visual Artists Ireland, Theatre Forum, Words Ireland, Create, Age and Opportunity, Minding Creative Minds and Dance Limerick.
Speaking at the announcement of details, Maureen Kennelly, Director of the Arts Council, said: "These past 12 months have been extraordinarily difficult for people across the arts landscape. Alongside their own cares and concerns for family and friends, they have been dealing with the shocking cessation of activity and the resulting loss of income. We continue to support individuals and organisations through various schemes and initiatives, and we hope that this new programme with WHAT will provide further vital support to this brilliant profession."
Claire Meaney, Director of Waterford Healing Arts Trust, added "Waterford Healing Arts Trust is very pleased to be working with the Arts Council on this important initiative to support the wellbeing of arts professionals in Ireland. The overwhelmingly positive response we have received over the course of planning Surviving or Thriving? indicates the need that exists for this type of support. We are extremely grateful to all of the associate organisations who have so generously worked closely with us to present a strong programme which participants can engage with at different levels and which, we hope, will not only lift spirits but will nourish and encourage artists and arts workers to restore their confidence, foster their resilience and fall in love with their creativity all over again."
About the Arts Council: The Arts Council /An Comhairle Ealaíon is the Irish government agency for developing the arts. We work in partnership with artists, arts organisations, public policy makers and others to build a central place for the arts in Irish life. We provide financial assistance to artists, arts organisations, local authorities and others for artistic purposes. We offer assistance and information on the arts to government and to a wide range of individuals and organisations. As an advocate for the arts and artists, we undertake projects and research, often in new and emerging areas of practice, and increasingly in cooperation with partner organisations. artscouncil.ie
About Waterford Healing Arts Trust: Established in 1993, Waterford Healing Arts Trust (WHAT) is based at University Hospital Waterford (UHW) and brings arts experiences – music, creative writing, painting – to the bedsides of patients at the hospital and other healthcare settings in the community. WHAT believes that exposure to the arts softens the clinical environment and reduces anxiety and stress for patients, families and staff. WHAT believes the arts contribute to the wellbeing and vitality of society as a whole, including within healthcare settings, and that engaging with the arts stimulates the participant's sense of identity and creativity. WHAT is a leader in the national development of arts and health in Ireland and manages the highly regarded resource website www.artsandhealth.ie
The organisation operates from the WHAT Centre for Arts and Health, the first of its kind in Ireland, on the grounds of UHW, enabling the org anisation to bridge its work between the acute hospital setting and the wider community. WHAT is a registered charity and is core funded by the Arts Council, HSE and Department of Social Protection. Additional funding is provided by Waterford City and County Council, Punchestown Kidney Research Fund, the Ireland Funds and the National Lottery. WHAT raises additional funding through sponsorship and fundraising initiatives. www.waterfordhealingarts.com
ENDS