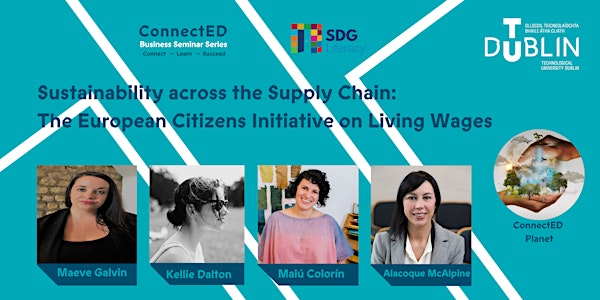 Sustainability across the Supply Chain
Hosted in collaboration with SDG Literacy as part of the Connected Planet Series – expert sustainability seminars throughout the year.
About this event
TU Dublin ConnectED Business Seminar Series is hosting an online event for our students, faculty, and the public at 6pm on Monday 3rd October. This event is hosted in collaboration with SDG Literacy, a community of practice around sustainability education, as part of the Connected Planet Series, a range of expert sustainability seminars throughout the year.
We are delighted to welcome Maeve Galvin, Kellie Dalton and Malú Colorín to discuss the 'European Citizens Initiative on living wages in the Garment Sector namely the Good Clothes Fair Pay campaign'. The event will be moderated by Alacoque McAlpine, Lecturer Faculty of Business, TU Dublin.
Maeve Galvin is the Global Policy and Campaigns Director at Fashion Revolution. She also manages the Good Clothes, Fair Pay project on living wages in the fashion sector. She has worked on social and environmental sustainability for the past twelve years across NGOs, the UN and private philanthropy. She previously worked at the International Labour Organisation (ILO) across Better Factories Cambodia and Better Work and managed C&A Foundation's worker empowerment and transparency partnerships in Bangladesh and Myanmar.
Kellie Dalton is a sustainability strategist and responsible fashion advisor. With over 16 years' experience in the clothing, footwear and textiles sector, Kellie's experience spans FTSE 100 brands and innovative SME's including Burberry, Vivienne Westwood, Manolo Blahnik, The North Face, Ninety Percent, Katharine Hamnett London and others.
Kellie challenges brands to push their ambition and her expertise lies in collaboratively driving social and environmental impact. To complement her strategic work, Kellie provides C-suite counsel on a range of social and environmental issues facing fashion and coordinates a network of technical experts to respond to brand implementation needs.
Kellie is an advisory board member to Fashion Open Studio and volunteers with youth charity Intouniversity, inspiring the next generation of young people to take up sustainability careers in fashion and retail.
Malú Colorín is a Mexican natural dyer and designer living in West Wicklow, Ireland. She's a founding member of Fibreshed Ireland, an affiliate of the global Fibershed movement, advocating and working toward regenerative fibre systems based on local fibre, local dyes and local labour. She's also the founder and CEO of Talú, a natural dye house and educational hub that helps slow fashion lovers keep their clothes in play for longer and reconnect to the Land. Her work draws inspiration from the traditional garments of her native Mexico, while embracing the rich heritage of Irish textiles. By working slowly and mindfully, she aims to build an intimate connection with each of her dye sources, as well as the Land where they grow.
Alacoque McAlpine is a Lecturer in Sustainable Supply Chain Management and Leading Sustainability, at the Faculty of Business at Technological University Dublin. Alacoque is undertaking a PhD at the Sutherland School of Law, University College Dublin where she is researching how to close regulatory gaps in garment supply chains to support efforts to secure a living wage for European garment workers.