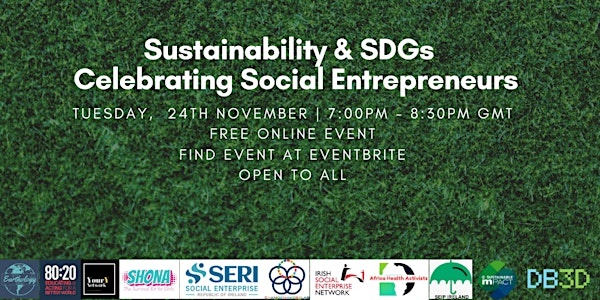 Sustainability & SDGs – Celebrating Social Entrepreneurs
You are invited to come and celebrate the contribution that social entrepreneurs are making in the world around us on Sustainability & SDGs
About this event
We are excited to be hosting another one of our celebrating social entrepreneurs networking events series in partnership with SEIP Ireland and Irish Social Enterprise Network. Supported by Changemakers Lab and SERI. An evening of networking and an interactive Q&A Panel Discussion from amazing speakers. The event will take place on Tuesday, 24th November 2020 on Zoom from 7pm to 8.30pm.
It's a free event and everyone is welcome. Tickets are limited, so book yours early to avoid disappointment.
Agenda:
7:00pm - 7:05pm Welcome
7:05pm - 7:10pm Welcome Remark
7:10pm - 7:25pm Presentation
7:25pm - 8:10pm Panel Discussion and Q&A Audience Participation
8:10pm – 8:20pm Online Networking
8:20pm - 8:25pm Closing Panel Discussion
8:25pm - 8:30pm Closing Remark
Welcome Remark:
Chris MM Gordon - CEO of Irish Social Enterprise Network
Presentation:
Tony Daly – Co-ordinator of 80:20 Project
Dennis Micheni – Founder & CEO of DiscoverBrands
Speakers:
Dr. CJ Palmer – Founder & CEO of Sustainable mPact™
Tammy Darcy – Founder & CEO of the Shona Project
Sarah Blake – Founder of Earthology
Moderator:
Pierce Dargan – Founder of Equine MediRecord
*****
Please note that this event will be recorded and livestreamed on YourY Network Facebook page. Attendees will receive an email with Zoom login information few days before the event.
*****
About YourY Network
YourY Network aim to creates an inclusive space for global social entrepreneurs and change-makers to connect. We organise monthly online global networking events which are FREE for anyone who is interesting in social entrepreneurship to attend. To be updated with our upcoming events, follow us on social media.