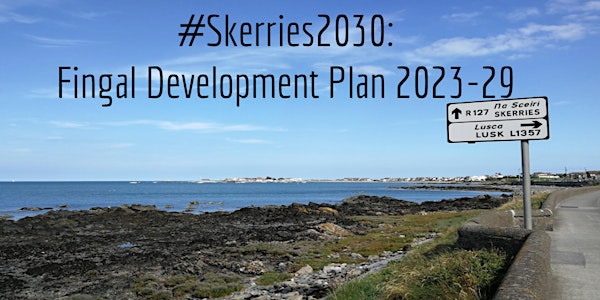 Sustainable Skerries: Information / Discussion re Fingal Development Plan
For a Sustainable Skerries 2030 + Beyond:An information & discussion event for individuals and organisations living or working in Skerries
About this event
So often, we feel that we have little control over the direction in which developments go in Skerries. The facts set out in the Fingal County Development Plan in particular can leave us at times with a feeling of helpless frustration.
Well, here is our opportunity to have a say in the vision and strategic direction for the next Fingal Development Plan!
The initial public consultation on the overall strategic approach is currently open.
This online meeting, organised by Sustainable Skerries and taking place on Thurs 8 April 2021 from 8 to 10 p.m., is intended to help create a strong voice for Skerries during this phase.
It offers you the opportunity to learn about the current consultation process:
You will be offered a basic understanding of
the planning process and its current stage,
the consultation framework,
and the themes along which the plan will be structured.
You'll see how to make your own (individual or group) submission.
The meeting will also offer the space and time to discuss some of the issues that are most important to Skerries.
Sustainable Skerries is going to draft its own submission, and the 8 April meeting is going to inform that submission significantly. You could say it's going to be a listening exercise for us.
We are hoping to bring some of our ideas, to hear those of other people and groups in our town, and to tease out where our common priorities may lie.
If you'd like to read up on the whole process, you can do so on the County Council's Development Plan Webpage. And you probably have received their brochure through your letterbox! Their full Strategic Issues Paper (80 pages) is available here.
Submissions on this first strategic part of the planning process will be accepted by Fingal County Council until Wednesday 12 May.
This online event will help clarify our views, and we are sure it will improve our submissions - the one we are going to make as Sustainable Skerries, and the ones we hope you might submit yourselves.
Please help us spread the word!
The Sustainable Skerries team.
Sustainable Skerries is a committee of the Skerries Community Association.