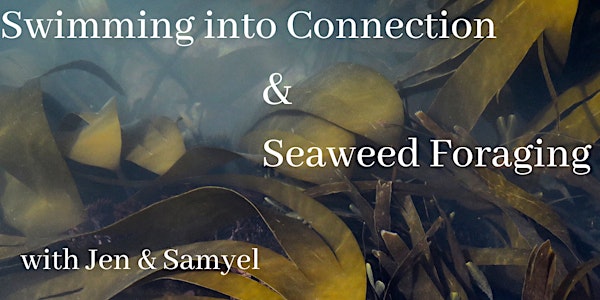 Swimming into Connection & Seaweed Foraging
Deepening & exploring our relationship with our salty coastlines through yoga, sea swimming, seaweed foraging & community
When and where
Location
Whiterock Beach Whiterock Beach Killiney Dublin Ireland
Refund Policy
Refunds up to 7 days before event
About this event
Swimming into Connection & Seaweed Foraging
We will gather together on Whiterock beach where firstly the morning will begin with Jen guiding us through a yoga and movement practice to open our bodies and mind for connecting in with and embracing the cold water and its blue medicine. Accompanied by the wonderful musician Ross Maguire who will be playing his music throughout to help us land further into our bodies and the sand beneath us. Together we will enter the sea as a tribe, exploring how it feels and what our relationship is with our blue home before returning to the beach where we will have some warm tea and salty sea chats.
From then, moving into the seaweed foraging with Samyel where we will follow the tide out as it reveals the green slip of seagrass, purple Sleabhac, the crunch of bladder wrack, caught up in lengths of kelp and sea spaghetti... make sure to bring a basket and knife or scissors to gather seaweeds which we will then cook on an open fire to taste.
About our hosts:
Samuel Arnold Keane is a forager and illustrator. Having gathered knowledge of seaweed foraging from traditional uses to reinvented ones. Merging ancestral skill within the modern landscape. Samuel is as passionate about the seaweeds as the stories behind them, old and new.
Jen Doran is a yoga teacher and herbalist who is based in West Cork and still returns often to her home county of Dublin. Herbal traditon runs through Jens bloodline with her father and great grandmother both being herbalists also which has gifted her a love of exploring connection to nature in all its shapes and forms, she loves finding new and old ways of deepening our relationship with the natural world around us and to our own inner nature and health as well, which Jen views as one and the same.
Samyel and Jen both share a love for creating space through their work for people to connect in deeply with their environment and through doing so creating ripples of awareness for how people can look after and protect the nature all around them.