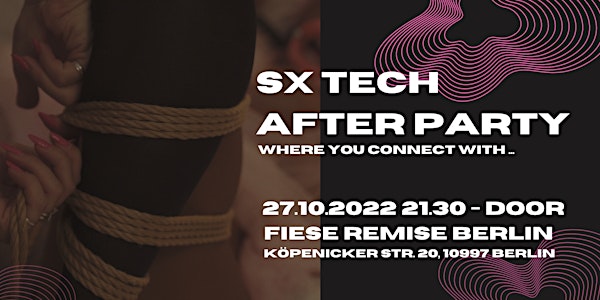 SX TECH AFTER PARTY
We know that Sxtech conference is not enough for you, so here is our afterparty to connect with mindful people like you!
When and where
Location
Fiese Remise Köpenicker Straße 20 10997 Berlin Germany
Refund Policy
Contact the organiser to request a refund.
About this event
Hey SexTech peeps,
The party is not just about the party, but the chance to meet and connect with all representatives from the sex tech world come together to continue what we started at the conference.
If you are planning to join us for the legendary SX Tech Party, here are the Sx TEch community wishes we desire to share with you before purchasing the tickets 🎟
Our Sx Tech world is ready for you with following program
Lineup:
21: 30 - 22:30 - Open door
22:30 - Consensual chit-chat
DJ
Acid Gold
https://soundcloud.com/acidgoldberlin
Lovatron
https://www.instagram.com/lovatron_/
https://soundcloud.com/lovatron
Kiril Kixen Krafft
https://www.mixcloud.com/MrKXN
Burlesque show
Ann Gale
https://www.instagram.com/anngaleaccessories/
Nova
https://www.instagram.com/nova.duh/
SHIBARI
Red lily & Saara Rei - shibari
https://www.instagram.com/redlily_dk/
https://www.instagram.com/saara.rei/
Alex Nagor & Jatta - shibari
https://www.instagram.com/nagor_alex/
Playroom Area
BDSM Architecture
https://www.instagram.com/kinky_architecture/
Deviant Tech VR - need to check
https://twitter.com/DominatrixSim
Visuals - AORTA Films
https://www.aortafilms.com/
https://www.instagram.com/aortafilmswillneverdie/
What about DressCode?
👉Costume:
PLEASE 😈 BE YOURSELF BUT - leave your jeans at home!
We suggest going playful.
Suggestions : CyberPunk, Apocalyptic, Fet*sh, K*nk, Na*k€d, Leather, PVC, Latex, Erotic - elegant KINKY; BDSM; EROTIC - leave your jeans at home!
If this sounds like a good fit for you, then you won't want to miss out this after party!!!
👉AWARNESS TEAM
Our support team will keep you safe all night long; you will be able to recognize them with their branded SX T-shirts. Let's look after each other while enjoying ourselves!
👉NO PHOTO
Let us absolutely abide by this rule; we know that many of you will be visiting Berlin, perhaps for the first time, but respect for privacy is the principle we can't exercise under any exceptions. Not only for safety but also ethics of the community.
If you need our help, please write us ❤️ hello@sxtech.eu
See you in Fiese Remise in a moment!