WomanSpiritIreland welcomes Ukrainian refugees and celebrates each other's culture and traditions
About this event
Let's gather to share common threads in both the Irish and Ukrainian traditions so that we can learn to appreciate each other's cultures.
Our event will include stories, songs, poetry, beautiful Ukrainian embroideries, rich with symbols, and an opportunity to reflect on the brokenness that has brought us together at this time.
Suggested donations: €5, €10, €20, €50, €100. Please give what you can. This event is FREE to Ukrainian refugees. Others, please give generously. Thank you.
If you have any problems with booking, please email: womanspiritireland@gmail.com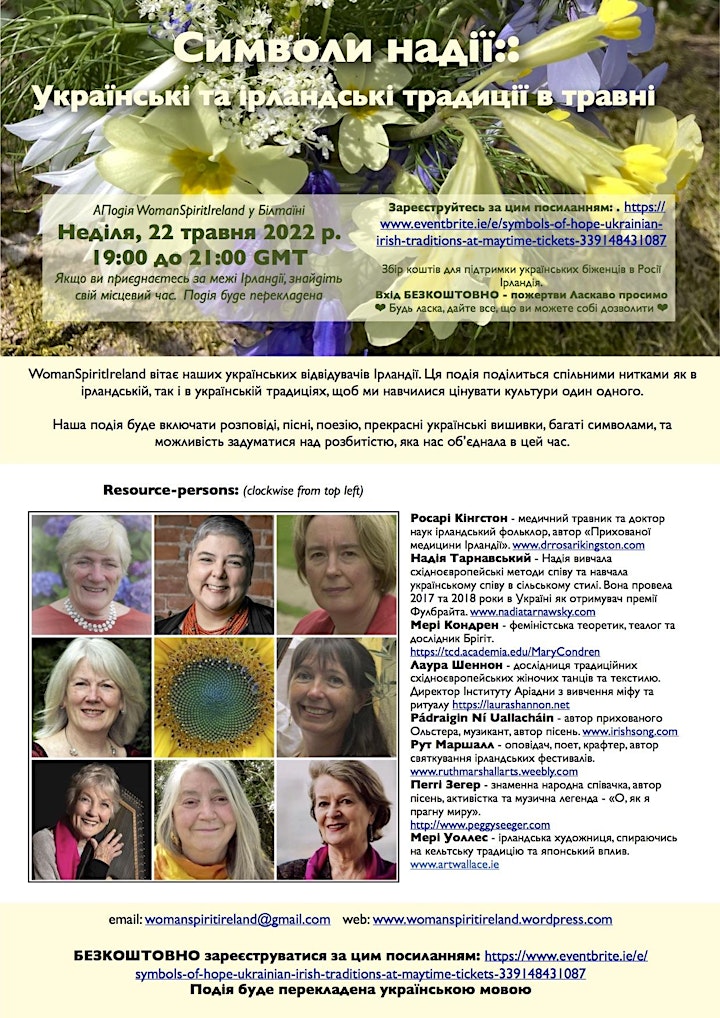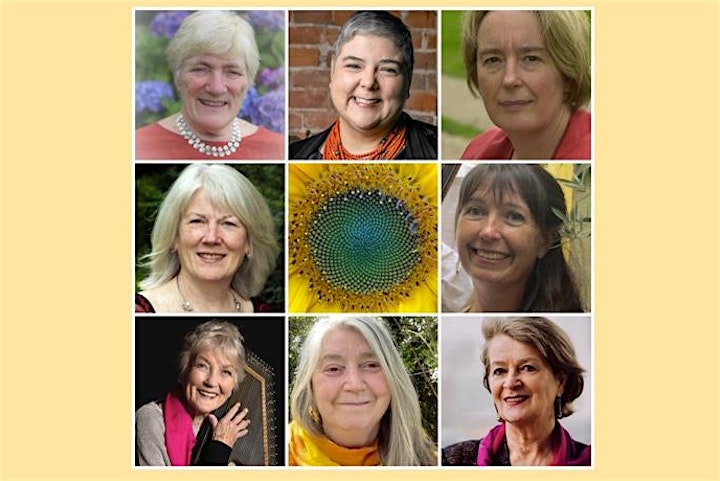 Presenters
Rosari Kingston Medical Herbalist and Ph.D Irish folklore, author of Ireland's Hidden Medicine. www.drrosarikingston.com
Nadia Tarnawsky Nadia studied Eastern European singing techniques, and taught Ukrainian village-style singing. She spent 2017 and 2018 in Ukraine as a recipient of a Fulbright award. www.nadiatarnawsky.com
Laura Shannon Researcher of traditional Eastern European women's dances and textiles. Director of Ariadne Institute for the Study of Myth and Ritual https://laurashannon.net
Pádraigin Ní Uallacháin Author of Hidden Ulster, musician, songwriter. www.irishsong.com
Ruth Marshall Storyteller, poet, crafter, author of Celebrating Irish Festivals. www.ruthmarshallarts.weebly.com
Peggy Seeger Iconic folk singer, song-maker, activist and musical legend - 'Oh How I Long for Peace'. http://www.peggyseeger.com
Mary Wallace Irish artist, drawing on Celtic tradition and Japanese influence. www.artwallace.ie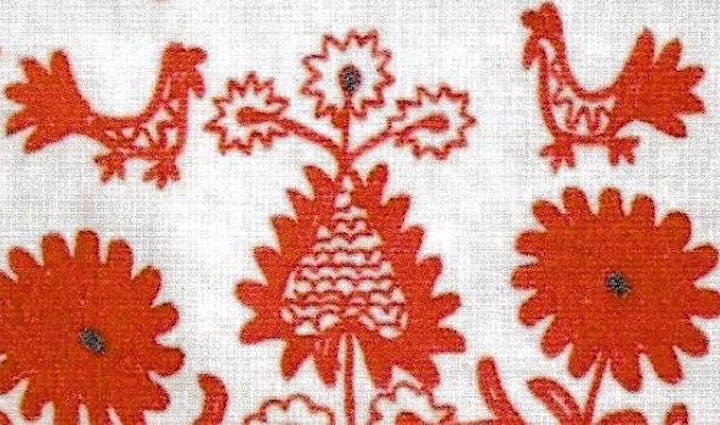 Aim of Event
To welcome Ukrainian refugees to Ireland and, at this time of Bealtaine (Ireland's Maytime festival), to introduce Irish culture to them, and Ukrainian culture to all participants.
Fundraising
The event also aims to raise funds for Ukrainian visitors to Ireland and for humanitarian needs in Ukraine.
Suggested donations €5, €10, €15, €20, €50, €100 or more!
This event is free to refugees.
Who are the organisers?
Womanspiritireland is a registered educational company with charitable status, established in 1995. Company number: 242427. Charity number:: CHY 13445.
Contact us at: womanspiritireland@gmail.com
What do they do?
Since 1995, WomanSpiritIreland has offered courses, study days, and retreats, and has also compiled study packets for those wishing to celebrate the four quarterly festivals in their own areas. WomanSpiritIreland focuses on women's approaches to spirituality, ethics, ritual and theology.
Will all the money go to assist Ukrainians?
All board members and staff work on a voluntary basis, and all our resource-persons are offering their services on a voluntary basis. All monies raised (apart from Evenbrite fees) will go to Ireland for Ukraine.
Where does the money from this event go?
All monies donated will be sent to this organisation: "Ireland for Ukraine", https://irelandforukraine.ie. WomanSpiritIreland does not have comparable networks for this work.
Who are they?
Translations
All presentations will be translated from English to Ukrainian and from Ukrainian to English, either on screen, or by use of voice.
Other Languages – Italian, German, Russian, Spanish and French – are also available to native speakers, if they log on.
Accessing the event
Links and information to assist with accessing the event will be emailed to all who register on Fri 20th May.
What happens if I can't tune in on May 22nd at 7:00 pm?
The event will be recorded and put on the WomanSpiritIreland website: https://womanspiritireland.wordpress.com/ Any donations made through this website and marked 'For Ukraine' will be forwarded to "Ireland for Ukraine".