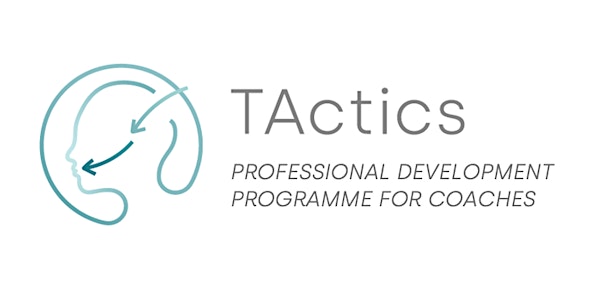 TActics Professional Development Programme for Coaches - Part I
Discover psychological models & tools that allow for a fresh and new way of working
Refund Policy
Contact the organiser to request a refund.
About this event
Workshops: Monday Oct 10th - 09:30 to 13:30 & Tuesday Oct 11th - 09:30 to 13:30
TActics is designed for people who work as coaches or who use coaching styles of leadership to enable others to solve problems, develop new thinking and overcome obstacles. The content features models and tools from Transactional Analysis (TA), chosen to enable coaches to contract professionally, gain a deeper understanding of their own behaviour and develop strategies for overcoming client resistance to change. I have included some more information on TA below.
TA for Coaches Part I is a 1-day course, comprising 2 half day workshops which run over two days consecutively from 9:30 to 1:30. The course is a combination of experiential learning, application and reflection, this approach caters for different learning styles and increases the retention of new learning over a longer period than with more traditional workshops.
Following on from this you can also complete TA for Coaches Part II which is a 1.5 day course, this further learning also includes a learning review session. I also run additional TA courses for Team and Group Coaches.
Where does TA come from and what is it?
Originating in 1950's with Eric Berne (1910-1970) TA has continued to develop theoretically, and today provides richness in illuminating relationships — within oneself and between individuals, groups and systems. It is a theory of communication as well as providing concepts to consider personality, and a model of systems. Berne called his theories "social psychiatry" — today it is termed a social psychology. Berne focused on the importance of using everyday language and core humanistic values such as :
everyone is ok
people can think
if a person can think then they can decide to change
TA is a psychological framework which incorporates a variety of perspectives, ranging from cognitive behavioural to psychodynamic. It can lead to professional qualifications in counselling, psychotherapy, education and organisational applications.
Rosemary Napper TSTA (O, E & C) a TA theorist says that TA can be considered as a set of maps about being human in the world with others
Some maps show the landscape: communication and relationships
Others map our underlying geology: our internal world
And a few describe the systems: our contexts we live together in -families, organisations and societies
So these maps can support us when we:
Plan to go into new relationships and environments
Experience being lost or somehow wrong - footed in our communication
Find our way forward is blocked and so we are diverted
Take time out to reflect on life
Want to deepen and expand our professional identity
The benefits of using TA in your coaching practice include:
Getting to know yourself and your clients in a deeper way
Being able to support your clients in transforming their relationships
Discovering fresh ways of working that allow you to facilitate your clients in finding their as yet undiscovered potential
Being able to helicopter above experiences with frameworks to consider what happened and what next
Connecting at a deep level with others who are using TA maps on their journeys, from all over the world
Getting refreshed, becoming inspired and finding your own source of energy and aliveness