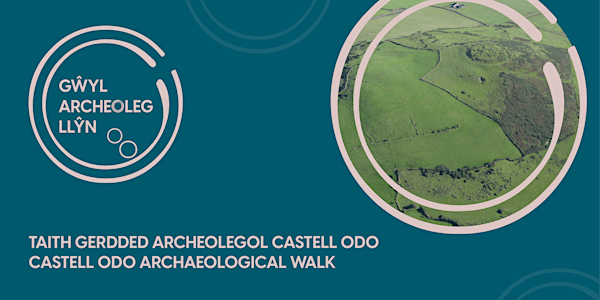 Taith Archeoleg Castell Odo | Castell Odo Archeological Walk
Taith Archeoleg Castell Odo | Castell Odo Archaeological Walk
By Llŷn Iveragh Ecomuseums
Date and time
Mon, 25 Oct 2021 11:00 - 14:00 BST
Location
Rhoshirwaun Rhoshirwaun Pwllheli Gwynedd LL53 8NB United Kingdom
About this event
PLEASE SCROLL FOR ENGLISH
Ymunwch â Rhys Mwyn a Katharina Möller am daith gerdded dywys o Gastell Odo, lloc cylchfyr ddwbl gyda tharddiad sy'n dyddio'n ôl i'r mileniwm 1af CC. Mae'r anheddiad cynhanesyddol hwn, sydd ar Fynydd Ystum, yn un o ddim ond tri safle ar ddeg o fath penodol o anheddiad a geir yn bennaf ar benrhyn Llŷn. Mae gwaith cloddio yng Nghastell Odo ar ddiwedd y 1950au, yn ogystal â gwaith mwy diweddar yn y cylch amgaeedig dwbl ym Meillionydd, wedi rhoi dealltwriaeth dda i ni o sut roedd y safleoedd hyn yn edrych pan oedden nhw'n cael eu defnyddio.
Yn dilyn ein taith o amgylch y cae, byddwn yn mynd i Fenter y Felin Uchaf, canolfan ddiwylliannol ac eco leol, lle byddwn yn edrych ar ail-greu tai crwn o'r Oes Haearn a dysgu mwy am sut roedd pobl yn byw yn ystod blwyddyn gyntaf y mileniwm CC.
(Sylwch fod Castell Odo ar eiddo preifat ac nad yw ar agor i'r cyhoedd fel arfer.)
LEFEL FFITRWYDD
Mae'r daith gerdded yma yn addas ar gyfer pobl â lefelau da o ffitrwydd
TYNNU LLUNIAU A FFILMIO
Byddwn yn tynnu lluniau a recordiadau byr yn ystod y digwyddiadau hyn i'w rhannu ar sianeli cyfryngau cymdeithasol, cylchlythyrau a gwefan LIVE. Byddwch yn cael cyfle i optio allan o ymddangos yn y recordiadau hyn. Os credwch eich bod wedi cael eich ffilmio neu dynnu llun yn erbyn eich dymuniadau, rhowch wybod i aelod o'r tîm LIVE a byddwn yn dileu'r ddelwedd ar unwaith. Os oes gennych unrhyw ymholiadau ynglŷn â sut rydym yn trin data personol, cysylltwch â live@ucc.ie neu cyfeiriwch at ein hysbysiad diogelu data
****************************************************************
Join Rhys Mwyn and Katharina Möller for a guided walk of Castell Odo, a double ringwork enclosure with origins dating to the 1st millennium BC. Located on Mynydd Ystum, this prehistoric settlement is one of only thirteen sites of a specific type of settlement mainly found on the Llŷn peninsula. Excavation at Castell Odo in the late 1950s as well as more recent work at the Meillionydd double ringwork enclosure have given us a good understanding of what these sites looked like when they were in use.
Following our tour of the enclosure, we will go to Menter y Felin Uchaf, a local cultural and eco-centre, where we will look at reconstructions of Iron Age roundhouses and learn more about how people lived during the 1st millennium BC.
(Please note that Castell Odo is on private property and is not usually open to the public.)
FITNESS LEVEL
This walk is suitable for people with good levels of fitness
PHOTOGRAPHY AND FILMING
Please note that we will be taking photographs and short recordings during these events to share on the LIVE social media channels, newsletters and website. You will be given the opportunity to opt out of appearing in these recordings. If you think you have been filmed or photographed against your wishes, please let a LIVE team member know and we will delete the image immediately. If you have any queries regarding how we handle personal data, please contact live@ucc.ie or refer to our data protection notice.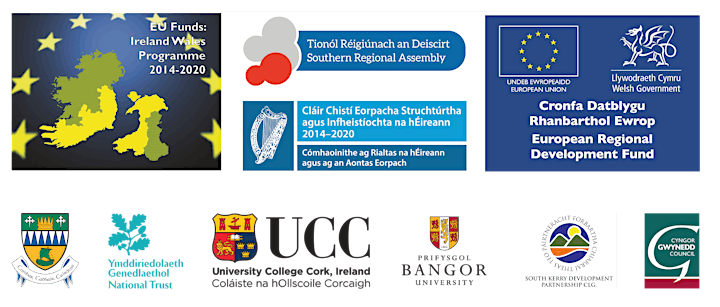 About the organiser
LIVE is a collaboration between Welsh and Irish community organisations, academic departments and local governments on the Iveragh Peninsula (south-west Ireland) and Llŷn Peninsula (north-west Wales). The aim of LIVE is to enable coastal communities to promote their natural and cultural assets and create opportunities for sustainable tourism, especially outside of the traditional peak tourist seasons. We aim to build on the varied work already underway to create a strong identity and sense of place for both peninsulas.
Find out more about the project here: www.ecomuseumlive.eu.
LIVE has received funding from the European Regional Development Fund through the Ireland Wales Cooperation Programme.