Taith Archeolegol Mynydd Rhiw | Mynydd Rhiw Archaeological Walk
About this event
*PLEASE SCROLL FOR ENGLISH*
Mae'r ardal o amgylch Mynydd Rhiw yn gyfoeth o safleoedd archeolegol sy'n cwmpasu hanes pobl o Oes y Cerrig i'r Oesoedd Canol a thu hwnt. Ar y daith dywys hon, byddwn yn ymweld â rhai o'r safleoedd hyn ac yn edrych yn fanylach ar yr archaeoleg leol.
Byddwn yn cwrdd yn y maes parcio ym Mhlas yn Rhiw, ystâd o'r 17eg ganrif sy'n eiddo i'r Ymddiriedolaeth Genedlaethol. O'r fan honno, byddwn yn mynd i St Aelrhiw, capel o'r 19eg ganrif sydd â tharddiad canoloesol cyn i ni fynd i ben y mynydd i ymweld â'r ffatri bwyeill Neolithig a charneddau claddu o'r Oes Efydd. Bydd y golygfeydd godidog o'r copa yn rhoi cyfle i ni weld safleoedd archeolegol eraill a thrafod hanes cyfoethog yr ardal. Ar ein ffordd i lawr byddwn yn ymweld â maen hir a ffynnon sanctaidd cyn dychwelyd i'r maes parcio
LEFEL FFITRWYDD
Mae'r daith gerdded yma yn addas ar gyfer pobl â lefelau da o ffitrwydd
TYNNU LLUNIAU A FFILMIO
Byddwn yn tynnu lluniau a recordiadau byr yn ystod y digwyddiadau hyn i'w rhannu ar sianeli cyfryngau cymdeithasol, cylchlythyrau a gwefan LIVE. Byddwch yn cael cyfle i optio allan o ymddangos yn y recordiadau hyn. Os credwch eich bod wedi cael eich ffilmio neu dynnu llun yn erbyn eich dymuniadau, rhowch wybod i aelod o'r tîm LIVE a byddwn yn dileu'r ddelwedd ar unwaith. Os oes gennych unrhyw ymholiadau ynglŷn â sut rydym yn trin data personol, cysylltwch â live@ucc.ie neu cyfeiriwch at ein hysbysiad diogelu data
***********************************************************************
The area around Mynydd Rhiw is rich in archaeological sites spanning human history from the Stone Age to the Middle Ages and beyond. On this guided walk we will visit some of these sites and take a closer look at the local archaeology.
We will meet in the car park at Plas yn Rhiw, a 17th century estate owned by the National Trust. From there we will make our way to St Aelrhiw, a 19th century chapel with medieval origins before we head to the top of the mountain to visit the Neolithic axe factory and Bronze Age burial cairns. The stunning views from the top will give us an opportunity to spot other archaeological sites and discuss the rich history of the area. On our way down we will visit a standing stone and a holy well before returning to the car park.
FITNES LEVEL
This walk is suitable for people with good levels of fitness
PHOTOGRAPHY AND FILMING
Please note that we will be taking photographs and short recordings during these events to share on the LIVE social media channels, newsletters and website. You will be given the opportunity to opt out of appearing in these recordings. If you think you have been filmed or photographed against your wishes, please let a LIVE team member know and we will delete the image immediately. If you have any queries regarding how we handle personal data, please contact live@ucc.ie or refer to our data protection notice.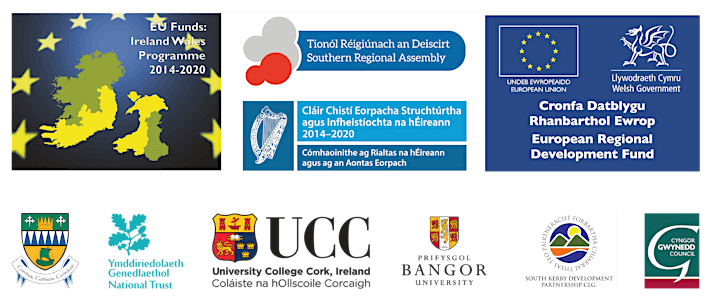 Organiser of Taith Archeoleg Mynydd Rhiw | Mynydd Rhiw Archeological Walk
LIVE is a collaboration between Welsh and Irish community organisations, academic departments and local governments on the Iveragh Peninsula (south-west Ireland) and Llŷn Peninsula (north-west Wales). The aim of LIVE is to enable coastal communities to promote their natural and cultural assets and create opportunities for sustainable tourism, especially outside of the traditional peak tourist seasons. We aim to build on the varied work already underway to create a strong identity and sense of place for both peninsulas.
Find out more about the project here: www.ecomuseumlive.eu.
LIVE has received funding from the European Regional Development Fund through the Ireland Wales Cooperation Programme.