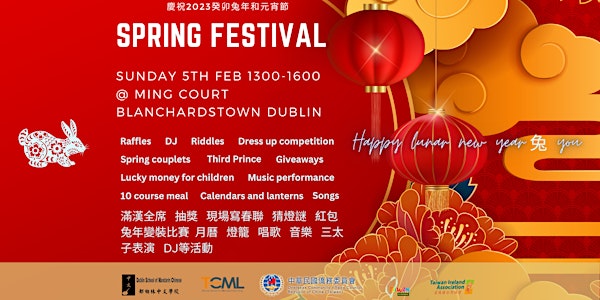 Taiwanese Community LNY luncheon
We cordially invite you to attend the annual Lunar New Year Luncheon, which will take place at the Ming Court Restaurant in Blanchardstown
By Taiwan Centre for Mandarin Learning in Ireland
Date and time
Sun, 5 Feb 2023 13:00 - 16:00 GMT
Location
Ming Court #Unit 453 Blanchardstown SC Blanchardstown Ireland
About this event
親愛的朋友們,
我們誠摯地邀請您參加一年一度的新春團圓午宴,將於二月五日星期日下午13:00在都柏林Blanchardstown Shopping Centre Ming court餐廳舉辦
愛爾蘭台灣華語文學習中心和愛爾蘭台灣協會今年將準備美味豐盛的滿漢全席10道,紅白酒,娛樂表演和摸彩活動與大家一起慶祝2023癸卯兔年!
每逢佳節倍思親,不管是愛爾蘭的節日還是台灣的節日,過節就是家庭團聚的美好時刻。遠在愛爾蘭的我們,雖然沒有台灣家人的陪伴,但大家藉由活動溫暖的聚在一起享受美食慶祝元宵節,和老朋友敘敘舊話家常,充滿過年的溫馨。因為場地的限制,我們將採取先報名及預付方式,歡迎大家踴躍報名,謝謝。
請您先訂票成功之後,再通過透過網路銀行繳費。
收費:
大人每人20歐元
小孩12嵗以下每人10歐元
不占座位免費
我們想感謝僑務委員會(OCAC)、駐愛爾蘭代表處丶愛爾蘭台灣協會丶都柏林中文學校等對本活動的聯合贊助。
愛爾蘭台灣華語文學習中心
Happy Lunar New Year 兔 you!
今天是小年夜。祝福大家事事順利,兔年行大運!
感謝大家的捧場報名!麻煩請尚未繳費的朋友們在1月25日以前完成轉賬繳費,以免喪失您的訂位。
TCML Ireland
IE02BOFI90001775184860
詳細活動内容請上這裏查詢。
謝謝您,期待2月5日和您們一起共同慶祝農曆年。
Tomorrow is Lunar New Year's Eve. I wish you all the best and may the Year of the Rabbit bring you lots of wonderful memories!
Thank you all for signing up! Please note that if you have not yet paid the fee, please complete the transfer and payment before Wed January 25, or you will lose your reservation.
TCML Ireland
About the organiser
We promote respect and understanding of Taiwanese and Irish cultures to improve social and economic relationships of both.