Description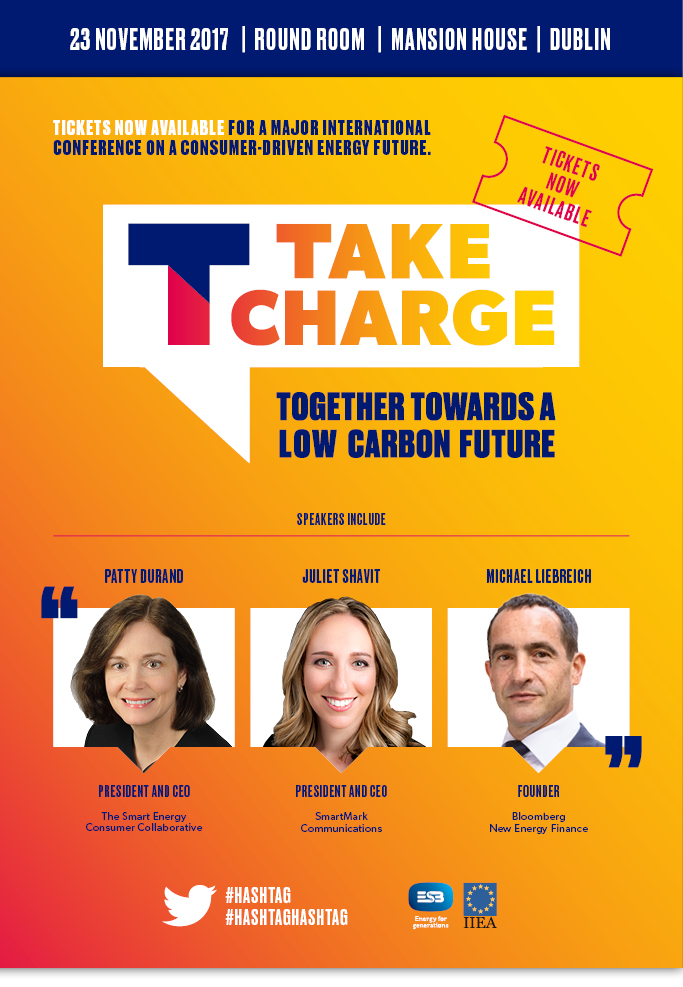 Take Charge – Together Towards a Low Carbon Future
Tickets Now Available
for a major international conference on a consumer-driven energy future.
23 November 2017 at the Round Room adjacent to the Mansion House, Dublin.

This Conference, hosted by the IIEA and ESB, will explore the new and active role of the consumer in building a low carbon energy future. It will encourage consumers to save energy and money by embracing new technologies and becoming more energy-aware. The conference will bring together policymakers, industry experts and thought leaders from the United States, Europe and Ireland.
For further information and speaker details visit our website.
In autumn 2017, two Take Charge Lectures with international guest speakers will take place at the IIEA, 8 North Great George's Street, setting the scene for the conference in November. The Lectures are free for all IIEA members and for non-members who have purchased a conference ticket.
29 Sept 2017 - The Social Dimension of a Smart Grid
Anna Mengolini, Scientific Officer, JRC of the European Commission, Directorate Energy, Transport and Climate

07 Nov 2017 - Scenarios for the Energy Future
Christoph Frei, Secretary General of the World Energy Council
We hope that you will join us in exploring what's in store for you in Ireland's energy future and how, together, we can make it a reality.
Speakers include:
Patty Durand, President and CEO of the Smart Energy Consumer Collaborative

Juliet Shavit, President and CEO of SmartMark Communications

Michael Liebreich, Founder and Chairman of the Advisory Board of Bloomberg New Energy Finance

Denis Naughten TD, Minister For Communications, Climate Action And Environment

Marguerite Sayers, Managing Director, ESB Networks

Sara Bell, Founder and CEO, Tempus Energy