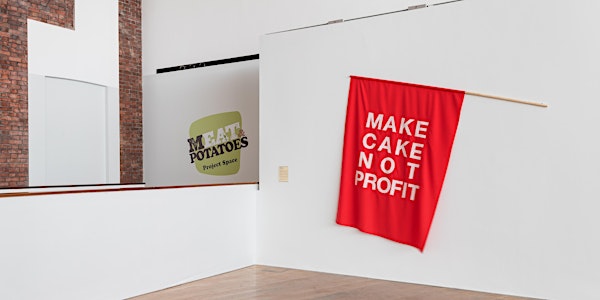 TAKE THE CAKE: SODA BREAD, April Gertler | in CORK
Terms of Consumption presents TAKE THE CAKE: SODA BREAD by artist April Gertler.
When and where
Location
Crawford Art Gallery Emmett Place D02 AC84 Cork Ireland
About this event
NOTE: This booking is for the Cork performance, for Dublin, please visit this link.
As part of the research project, Terms of Consumption, curator Julia Gelezova commissions artist April Gertler to develop an Irish edition of TAKE THE CAKE, with the performances taking place in Cork and Dublin this October.
An ongoing project of artist April Gertler, TAKE THE CAKE is a hybrid lecture performance / baking show with the intention of examining the historical trajectory of common ingredients of a cake using a feminist and post-colonial perspective.
TAKE THE CAKE: SODA BREAD will premiere at Temple Bar Gallery + Studios on 1st October 2022, travelling to Crawford Art Gallery in Cork for the 6th October. The event is accompanied by the launch of Gertler's riso publication BREAD BANTER, comprising over 30 collected recipes and stories around Cork and Dublin, including Mick O'Shea, Rory O'Connell, and Darina Allen. The publication will be available at a special price on day of performance for €22. A banner created by Gertler will be exhibited at both venues, in Crawford Art Gallery as part of the exhibition Meat & Potatoes.
The commission of the Irish edition of TAKE THE CAKE was initiated through a podcast of the same name, with the support of PhotoIreland Festival 2021, which to date has resulted in two episodes featuring artist Padraig Spillane and food historian Regina Sexton who aided the process of identifying what the national cake of Ireland might be. Gertler returned to Ireland to complete a residency in County Cork connecting with locals, gathering histories and traditions of a national cake — the soda bread. The collected stories will evolve into a lecture performance involving baking the bread live followed by its sharing and eating, with a special LIVE participation by musician Claudia Barton in Cork performance only.
Terms of Consumption is supported by the Arts Council of Ireland. TAKE THE CAKE: SODA BREAD is additionally supported by the Crawford Art Gallery, and Temple Bar Gallery + Studios.
IMAGE: 'Make Cake Not Profit' Banner by April Gertler, on display at Meat & Potatoes exhibition, Crawford Art Gallery. Photograph by Jed Niezgoda 2022
________________________________________________________________________
About April Gertler
April Gertler is an American artist who has been living and working in Berlin since 2005. She studied Social Science Interdisciplinary Studies at University California, Berkeley (BA Hons), Photography at California College of the Arts (BFA) and Photography at Bard College (MFA). After a semester abroad at the Städelschule in Frankfurt/Main, and finishing her MFA, April returned to Frankfurt/Main and subsequently moved to Berlin.
April's work is preoccupied with the idea of the communal experience as an access point. The communal moment has taken a variety of forms for her including lecture-performance, self-published artist books, one night bars and exhibitions, in addition to durational artist walks. Further extensions of her practice include her cultural programming and curatorial projects.
She has exhibited, performed and taught internationally. In 2009, April started a peer-to-peer knowledge exchange art program PICTURE BERLIN for international artists. Since the start of PICTURE BERLIN, April has been simultaneously working on her own practice which has included other performative and curatorial projects such as Sonntag and TAKE THE CAKE – a lecture-performance and baking show. In 2021, April opened a not-for-profit project space in Neukölln called WIRWIR, with Adrian Schiesser. April has been teaching Analog Photography, Bookmaking and Social Practices as an Adjunct Professor at Bard College Berlin since Spring 2016.
About Terms of Consumption
Initiated in 2020, by curator and cultural producer Julia Gelezova, Terms of Consumption reviews and revises Irish cultural identity through contemporary visual arts practices that in turn engage in conversations around food histories and culture. This practice-based research project is interested in the elements that make up a culture and how it is developed, responding to the perpetual shifts in the social, environmental, and political landscapes of modern Ireland, using the visual arts as a means of mediating and translating cultural heritage and nurturing conversations around contemporary Irish identity.
The project is realised through curatorship, commissions, cooking, image-making and collecting, and an experimental communion of all of the above, with annual public output. Though the outcome focuses on Ireland, the research and context is global.
In 2021, with support from PhotoIreland Festival, TOC initiated a number of artistic commissions as curator of the festival programme, including new film works by artists Jennie Moran, Deirdre O'Mahony, and Fiona Hallinan, an online event and publication of artist Ana Nunez Rodriguez, and new artwork by Alan Phelan. 2022 sees the project's first independent commission with April Gertler's TAKE THE CAKE.
The research is supported by the Arts Council of Ireland through the Visual Arts Bursary in the years 2021 and 2022.