Takin' The Mic For Kildare Readers Festival with Cauvery Madhavan & BeRn
Takin' The Mic For Kildare Readers Festival with Cauvery Madhavan & BeRn
About this event
Takin' the Mic
For the very first time together the Irish Writers Centre together with Kildare Library & Arts present a very special IWC Takin' the Mic session! This event will feature new and emerging writers from the Rooted Hearts and Winged Minds writing course and will also support and showcase many other new and emerging talents from creative writing groups in Kildare.
Guest MC for the evening is Cauvery Madhavan. Special guest is the songwriter and singer, BeRn.
Cauvery Madhavan
Cauvery Madhavan was born in India and moved to Ireland thirty-three years ago. She is the author of three books of fiction – Paddy Indian, The Uncoupling and The Tainted which was picked as one of An Post's Top Summer Reads 2020. It was also awarded the runner-up prize in SAHR Prize for Military Fiction and listed by The Times, UK, in their list of top 40 Historical Fiction novels. Cauvery has written for the Irish Times, Irish Independent, Evening Herald, the Sunday Tribune, The Phoenix and Travel Extra. She lives with her husband and three children in County Kildare and is working on her fourth novel.
Singer/songwriter/guitarist BeRn calls her stuff 'Frock' an eloquent mix of folk, punk angst, rock 'n' roll, feminism, ire, laughter and irrepressible spirit. Raw and uplifting she takes to the stage with a fiery presence offering a heady mix of emotion and rebellion.
To date BeRn has recorded 3 albums and an EP, Tales From My Back Pocket. She is the founder of the critically acclaimed Eastrogen Rising: A Rebel Cabaret, and is a core member of the new production Revolting Women: A Rebel Cabaret.
BeRn wrote the title track 'No Star Lesbian" for Outitude: a feature length documentary film, released in August 2018. The Film has shown in Gaze film Fest, Cork Indie Fest, & many more.
The video for BeRn's Repeal the 8th song 'Pope' was chosen for the Dublin International Short Film and Music Video Festival in October 2018.
BeRn has opened for Martha Wainwright and Patti Smith in San Francisco, played the Edinburgh Fringe Festival and The Copenhagen Songwriter's Festival.
BeRn has been performing regularly on FB live as well as Mud Island MudFest and Five Lamps Arts Festival.
Many of her shows can be found here:
-
KCC Library Event Privacy Statement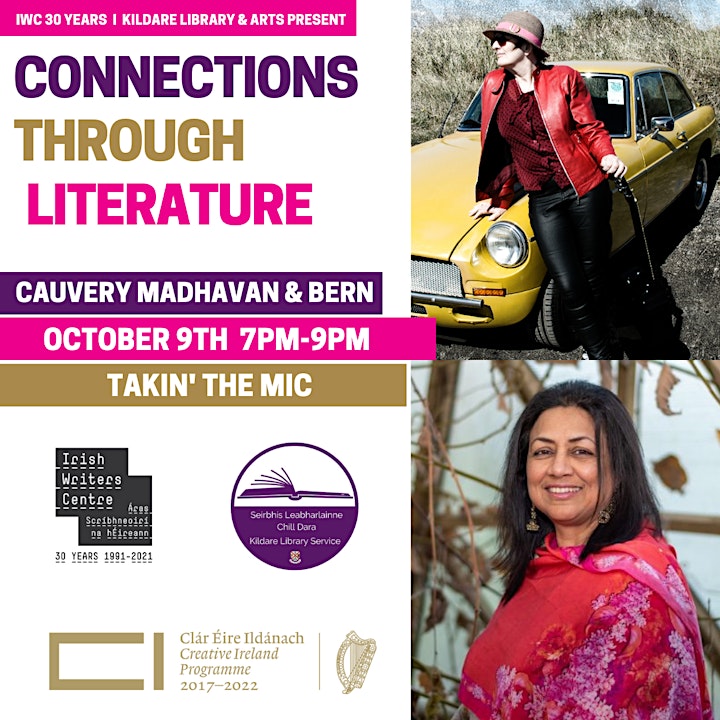 Organiser of Takin' The Mic For Kildare Readers Festival with Cauvery Madhavan & BeRn