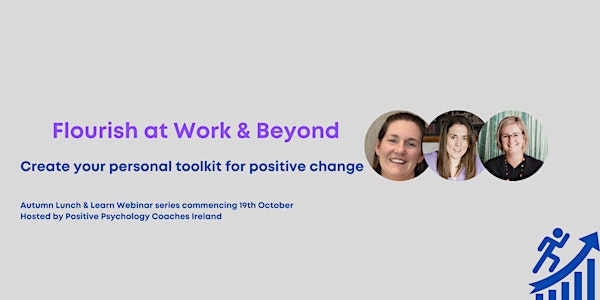 Taking Control Of Your Career
Positive Psychology Coaches Ireland are excited to bring a series of workshops that will bring the science of wellbeing to your life .
About this event
This event is part of a 5-week lunch & learn series hosted by the Positive Psychology Coaches of Ireland. Join us for any or all of the events and create your personal toolkit for positive change.
In this session you will:
• Gain an understanding of how to take care of your wellbeing when you are embarking on a journey of career transition.
• Become aware of a framework that will help guide you through the journey of taking control of your career.
• Explore you motivations for wanting to take control of your career, including reframing your current role.
This session is for you if you:
• If you feel like you are 'drifting' in your career and you want to start a journey towards getting some focus and clarity on the direction of your career.
• You are thinking that you would like to go for a promotion within your organisation but you are struggling with the confidence to go for it.
• You have seen lots of your colleagues move on to 'bigger and better' roles in other organisations and you are wondering if it is your time to do the same.
Please note this will be an informative session that will provide you with a follow up workbook to guide you through the steps and activities to complete to help you take control of your career.
About the facilitator:
Emma is a Career and Life Transition Coach, accredited by the EMCC. As a Positive Psychology Practitioner and organisational wellbeing facilitator she also holds a Masters in Applied Positive Psychology and Coaching Psychology. Emma's passion is helping individuals through group workshops and 1-1 coaching to find the clarity, direction and goals they need to flourish in their careers and life. . You can also connect with Emma on Linked In by clicking here
About Positive Psychology Coaches Ireland
We are Ireland's experts in building positive workplaces and flourishing teams. We are a team of Irish-based Positive Psychology Practitioners, Coaches and Psychologists, who are on a mission to transform organisations into flourishing workplaces centred around wellbeing and flourishing of all employees.
Combining our vast personal experiences in sectors including IT, HR, Education and Recruitment, the team expertly translates evidence-based research and theory from the fields of Positive Psychology and Organisational Psychology into transformational workshops, training and coaching programmes that make your teams reach their full potential.
For details of the other events in our series please click here