Description
Talent Management – the secret to success at EY
CIPD Ireland Western region are delighted to welcome you to our first members' event of 2019/2020 progamme.
The event is sponsored by Collins McNicholas and will take place at 6pm on Wednesday 18 September 2019 at the Clayton Hotel, Ballybrit. Guest speaker: Enda Daly, Recruitment Manager/Talent, Ernst & Young.
With talent acquisition and retention identified as one of the key concerns for HR professionals in the CIPD's 'HR practices in Ireland' 2019 survey, CIPD Ireland Western Region is pleased to present some insights from the best practice practitioners in this field. We welcome the CIPD Ireland 2019 HR Awards 'Talent Management' category winner, Ernst & Young, to share some of their talent management wisdom. The presentation will be followed by a panel discussion with contributions from local thought leaders in this space.
About our speaker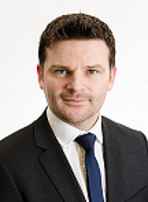 Enda Daly, Recruitment Manager/Talent, Ernst & Young
An experienced Talent professional with 14 years' experience across HR disciplines. A demonstrated history of working in Banking and Professional Services, in Human Resources, Management and Talent Management. Extensive experience in Talent delivery, Talent Strategy and Talent Transformation projects with exceptional stakeholder and relationship management skills.
About our sponsor

Collins McNicholas is an award winning Recruitment and HR Services company with 3 decades of experience in sourcing executive, professional and administrative personnel for its extensive client database, with six offices nationwide in Dublin, Cork, Galway, Sligo, Athlone and Limerick.
Please Note
Professional photography and video production may be taking place at the event and these images may be used on future promotional materials for CIPD. Please note that by attending the event, you are giving your consent for your image to be used on any CIPD promotional materials.
For your security and peace of mind, CIPD and its subsidiaries will not supply your details to any organisation for marketing purposes. By submitting this request you confirm that you agree to the use of your information as set out in CIPD's privacy policy. We reserve the right to include your name in a list of delegates at the event.
Non-members may click here to sign up to receive our e-newsletters which will keep you up-to-date with HR news in Ireland as well as CIPD Ireland events and survey research.