Description
Tangent 28, Trinity's Innovation Festival 2019
Featuring a range of activities, Tangent, Trinity's Ideas Workspace will host its inaugural Tangent 28 Innovation Festival in February 2019. The festival will include masterclasses, guest talks, lunch & learn events, open pitch nights, drop-in-advice sessions, and a number of pop-up events. Tangent 28 will bring together students from across Trinity with staff and community partners to explore innovation and entrepreneurial thinking and ideas.
The festival (1-28 February) will showcase some of Trinity's successful student startups and alumni. It also will promote a greater understanding of innovation and entrepreneurship in the context of future-proofing careers, as well as giving Trinity staff and students support to enhance their entrepreneurial, innovative and creative thinking skills.
The festival will pave the way for the launch of the new Tangent floor in 2019. This new designated space, to be housed in a world-class facility, co-located within an expanded School of Business, will offer students, staff, and the wider innovation ecosystem a place to come together to collaborate, build and innovate.
The team at Tangent along have helped to curate the festival, which will see a range of events that surprise, challenge and encourage Trinity staff and students to develop an innovative mind-set. The festival will help to raise student awareness that Trinity is an innovative university, whilst also sparking the college community to work together to develop new ideas.
Get ready to learn, and be inspired!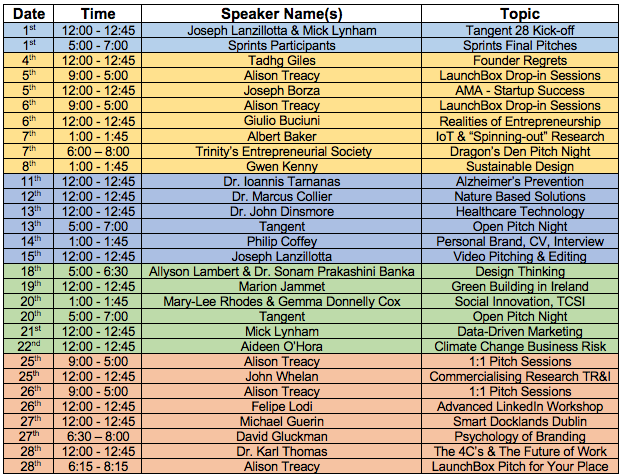 Secure your seats now!!
Click register and select tickets for the events you would like to attend.
On each ticket you can click "Show Info" to see more about the event.
---
More events are still being confirmed but register now for the ones you definitely don't want to miss!
***Please only select tickets for the events you plan to attend as space is limited for each event***