Location
Greencastle
Greencastle Terminal
Greencastle
BT34 4LR
United Kingdom
Join Paul cunningham (Great British Menu) on a Foodie Tour of Carlingford lough, featuring seafood tasting dishes inspired by the Lough area
About this event
The outstanding natural beauty of Carlingford Lough is your backdrop for this unique food experience. We are really excited to partner with celebrity Chef Paul Cunningham, best known from 'The Great British Menu' and the award winning White Water Brewery to create a very special evening of food & drink on Carlingford Lough.
Join us for this special Tasting Cruise on Carlingford Lough, where you will enjoy a range of tasting dishes inspired by the local area, perfectly matched with the award winning craft beers from the White Water Brewery.
Meet Chef Paul Cunningham as he shares the secret behind some of his most popular tasting dishes!
What included:
5 Different Tasting Plates inspired by the local area, coupled with 5 beer tastings from local craft brewers White Water Brewery.
Guests will be seated at picnic tables for this unique tasting event. Tickets will be sold as private table or shared tables. Each picnic table seats four people and individual seats can also be purchased and allocated to a particular table (to a maximum of 6 people per table).
Afterwards, enjoy live music as we cruise the iconic Carlingford Lough, with its panoramic views of the Cooley Peninsula and the majestic Mourne Mountains. These cruises take us along the Southern shoreline, past the medieval town of Carlingford with its picturesque marina and imposing King John's Castle. On the Northern shoreline, enjoy panoramic views of Greencastle Royal Castle, and Rostrevor Bay, as the sun sets on the majestic Cooley Peninsula and Mourne Mountain region.
Board the cruises at our terminal at Greencastle, Co. Down, and begin your cruise along this panoramic Lough area. Keep an eye out for Finn, Carlingford Lough's resident dolphin as we depart. He's sure to pop up and say hello!
This summer, stimulate your senses with tastes, sights, and sounds with our 'Tastes of the Lough' Cruise.
**** DEPARTURE FROM OUR GREENCASTLE TERMINAL AT 7.45PM****
***These are outdoor evening events - We recommend warm clothes and to bring a wind/waterproof jacket with you.
--------------------------------------------------------------------------------------------
Tickets are limited so book early!
Please read our booking T & C's and onboard COVID safety guidelines below prior to booking and arrive 20 MINUTES PRIOR TO DEPARTURE AT TERMINAL.
Boarding at Greencastle Terminal at 7.45pm.
Cruise Duration: Approximately 2 hours
* Carlingford Lough Ferry reserve the right to cancel cruises or alter the route of the cruise in the event of weather conditions that affect our sailings.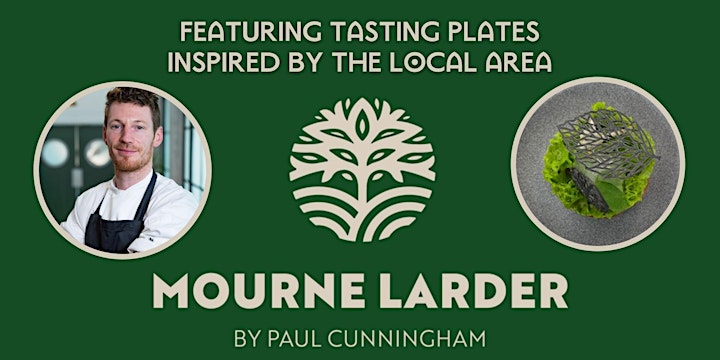 General Information - T & C's & Cancellation Policy
• Please note that bookings must be made using a valid email address. In the event of any cancellations, passengers will be contacted by email no later than 12 hours prior to departure. Carlingford Lough Ferry can take no responsibility for inaccurate contact information included in the booking form.
• All passengers are asked to fully read and adhere to our COVID-19 safety procedures onboard. These are detailed below. Carlingford Lough Ferry reserve the right to refuse passengers boarding if they are in breach of these public safety guidelines.
• Wheelchairs/ Reduced Mobility: Our vessel is Wheelchair user friendly for the lower deck area only.
• Toilets – Toilets are available onboard, however, access requires that passengers climb three steps.
Cancellation Policy
• Cancellation policy: In light of the reduced passenger count onboard to facilitate social distancing, we have had to amend our cancellation policy to the following:
• A full refund will be offered one week prior to the cruise date.
• 50% refund will be allowed for cancellations received within one week of cruise.
• No refunds are available for cancellations received within 48 hours of the cruise.
**** Please note that requests for transfer to a similar cruise cannot be accepted as this is a once off event. If a customer requests a transfer to one of our other cruise types, no refunds will be available on any price different on the tickets. Tickets can only be transferred once.
• Carlingford Lough Ferry reserve the right to cancel cruises or alter the route of the cruise in the event of weather conditions that affect our sailings.
• In the event that Carlingford Lough Ferry cancel the cruise, passengers will be offered the option of a full refund or a transfer to another cruise operating within 2 weeks of the date of the cancelled cruise.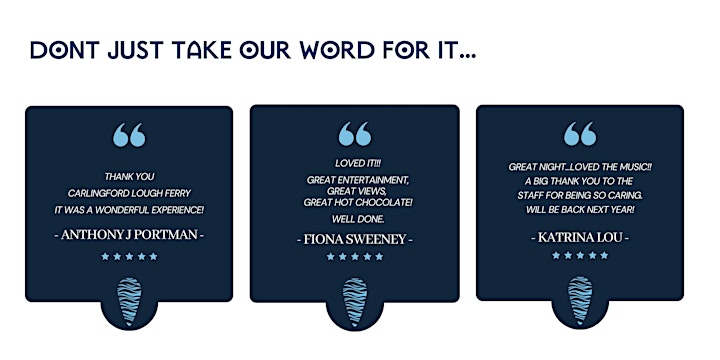 The following COVID restrictions are in place for your safety and comfort:
Passenger numbers are strictly limited to allow for safe social distancing
A one way traffic flow system is in place on the upper deck areas
Signage and floor markings are in place to guide passengers onboard
Passengers are allocated positions on the vessel and are required to remain within this position for the duration of the cruise.
Children are NOT permitted on the upper deck and must remain with their parents while onboard.
Hand sanitiser units are provided onboard the vessel for passenger use
Onboard Toilet facilities are available - We request that passengers limit the use of these facilities where possible
Please note the follow COVID-19 related questions. If you answer 'Yes' to any of these questions, please do not book this cruise.
COVID-19 HEALTH CHECK QUESTIONS:
1. If you currently have COVID-19 or are displaying symptoms of Covid-19 in the last 14 Days
2. If you live in the same household or have been in close contact with someone who has displayed symptoms of COVID-19 in the last 14 days.
3. If you have been advised to self isolate at this time
4. If you have travelled abroad in the last 14 days (except Northern Ireland)