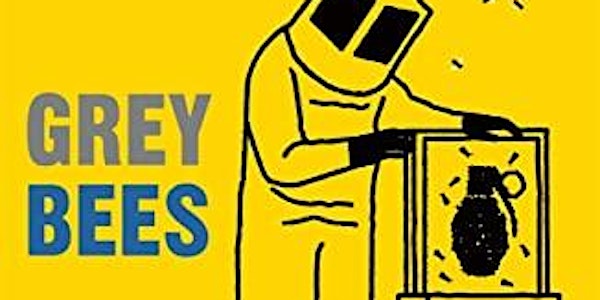 TCLCT book club: international fiction, May 2022
TCLCT book club: 'Grey Bees'' by Andrey Kurkov
About this event
Please join us to discuss Grey Bees by Andrey Kurkov, translated from the Russian by Boris Dralyuk. MacLehose Press.
Little Starhorodivka, a village of three streets, lies in Ukraine's Grey Zone, the no-man's-land between loyalist and separatist forces. Thanks to the lukewarm war of sporadic violence and constant propaganda that has been dragging on for years, only two residents remain: retired safety inspector turned beekeeper Sergey Sergeyich and Pashka, a "frenemy" from his schooldays.
With little food and no electricity, under ever-present threat of bombardment, Sergeyich's one remaining pleasure is his bees. As spring approaches, he knows he must take them far from the Grey Zone so they can collect their pollen in peace. This simple mission on their behalf introduces him to combatants and civilians on both sides of the battle lines: loyalists, separatists, Russian occupiers and Crimean Tatars. Wherever he goes, Sergeyich's childlike simplicity and strong moral compass disarm everyone he meets. But could these qualities be manipulated to serve an unworthy cause, spelling disaster for him, his bees and his country?
Grey Bees is as timely as the author's Ukraine Diaries were in 2014, but treats the unfolding crisis in a more imaginative way, with a pinch of Kurkov's signature humour. Who better than Ukraine's most famous novelist – who writes in Russian – to illuminate and present a balanced portrait of this most bewildering of modern conflicts which has led to the shocking war we are witnessing today.
About the Author
Born near Leningrad in 1961, ANDREY KURKOV was a journalist, prison warder, cameraman and screenplay-writer before he became well known as a novelist. He received "hundreds of rejections" and was a pioneer of self-publishing, selling more than 75,000 copies of his books in a single year. His novel Death and the Penguin, his first in English translation, became an international bestseller, translated into more than thirty languages. As well as writing fiction for adults and children, he has become known as a commentator and journalist on Ukraine for the international media. His work of reportage, Ukraine Diaries: Dispatches from Kiev, was published in 2014, followed by the novel The Bickford Fuse.
About the Translator
Boris Dralyuk is an award-winning translator and the Executive Editor of the Los Angeles Review of Books. He taught Russian literature for a number of years at UCLA and at the University of St Andrews. He is a co-editor (with Robert Chandler and Irina Mashinski) of the Penguin Book of Russian Poetry, and has translated Isaac Babel's Red Cavalry and Odessa Stories, as well as Kurkov's The Bickford Fuse. In 2020 he received the inaugural Kukula Award for Excellence in Non-fiction Book Reviewing from the Washington Monthly.
About our book club:
We meet at 6:30pm on the third Tuesday of the month (in Trinity term-time) to discuss a piece of recently translated literature, usually fiction. New members are always welcome and may drop in and out as it suits. Each meeting lasts about one hour. The books we choose are available from good bookshops and libraries.