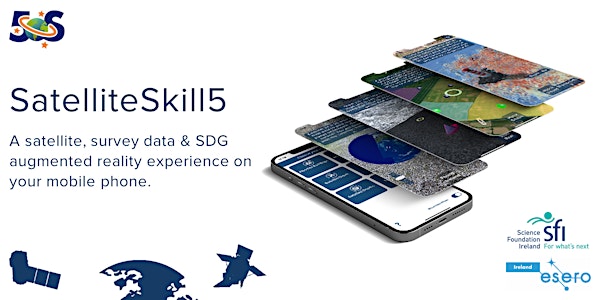 Teaching Space, Satellites & SDGs using AR, VR & Games (In Person)
A workshop introducing teachers to SatelliteSkill5, a powerful AR app designed to teach students about space, satellites, survey data & SDGs
When and where
Location
Roque Lab Rhetoric House South Campus, Maynooth University Maynooth Ireland
About this event
This workshop introduces secondary school teachers to our augmented reality app: SatelliteSkill5 and how it can be incorporated into their classroom to teach students about: Space, Satellites, Survey data and Sustainable development goals. This free app allows teachers to introduce students to these complex topics in a fun, interactive and immersive manner while achieving subject learning objectives. The 5*S team is also offering free in-school SatelliteSkill5 workshops for your students, designed for Junior Cycle level learning outcomes and offered at all levels of secondary school.
Through a set of interactive challenges, students using SatelliteSkill5s covers a wide range of satellite related topics including flooding, renewable energy, global warming, land change over time, security and elevation. The app is designed to: introduce students to Space, Satellites, Survey Data and SDGs, help students understand how and why this data is important, let them unlock real-world data sets to help in their projects and empower them to solve challenges in their community and contribute to reaching the UN Sustainable Development Goals.
In the workshop, teachers will learn the fundamentals of how satellites are used to observe the earth, how the EU and ESA Copernicus programme has launched 8 different types of 'Sentinel' satellites that observe the earth and collect different types of spatial data and how the data that satellites collect can be used to address the Sustainable Development Goals, from large 'group projects' such as European-wide efforts to increase renewable energy to community issues around boats, flooding and more. Our goal is that after this one-hour workshop, you will gain the confidence to speak about how satellites collect data about our world and to use this teaching and learning tool in the classroom as an engaging, exciting and fun way to learn about satellites. We at 5*S will also continue to offer support to teachers after the workshop and also offers school-visits to secondary schools in Ireland.
SatelliteSkill5 has been received very positively in many schools around Ireland and has proven to be a fun, interactive and engaging activity for those that take part. For more info and to download the SentinelSkill5 app please visit: www.5sdiscover.maynoothuniversity.ie/downloads/
The app has particular use in teaching JC Geography LO's: 1.3, 1.5, 1.6, 2.3, 2.6 & 3.4 and JC Science LO's: 1.2, 1.5, 1.10, 1.6, 2.1, 2.5 & 2.7.
(This is an in person workshop at Maynooth University, please see our other workshop for an online version of this one).
The SatelliteSkill5 app is brought to you by Science Foundation Ireland and Esero Ireland.