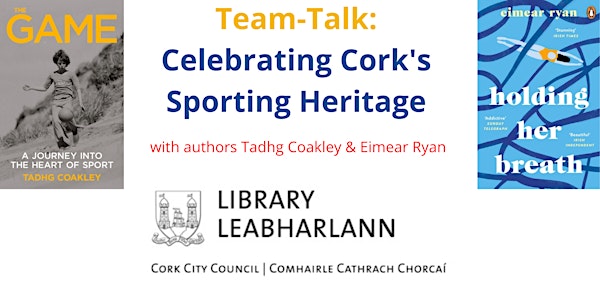 Team-Talk: Cork's Sporting Heritage, with Tadhg Coakley & Eimear Ryan
A special sports-themed discussion to coincide with Cork Heritage Week. Tadhg Coakley & Eimear Ryan in conversation with Jordan McCarthy.
When and where
Location
Cork City Library 61 Grand Parade Cork Ireland
About this event
To celebrate Cork Heritage Week 2022, authors Tadhg Coakley and Eimear Ryan will read from their sports-themed publications, discuss Cork's strong sporting culture and examine the importance of sport in our daily lives.
Tadhg Coakley is the author of four books, The First Sunday in September (Mercier Press, 2018); Whatever It Takes (Mercier Press, 2020), the 2020 Cork One City, One Book choice; the autobiography of Denis Coughlan, called Everything (Hero Books, 2020) which he co-wrote. His fourth book The Game: A Journey into the Heart of Sport is now in bookshops and was published by Merrion Press. Tadhg's short stories, articles, and essays have been published in The Stinging Fly, The Winter Papers, The Irish Examiner, The Irish Times, The42.ie, Aethlon, The Holly Bough, The Honest Ulsterman, Quarryman, Silver Apples and elsewhere. Tadhg is from Mallow and now lives in Cork city.
Eimear Ryan's debut novel, Holding Her Breath, was published by Penguin in 2021. She is an editor of the literary journal, Banshee. Her fiction and essays have appeared in Winter Papers, Granta, The Dublin Review, The Stinging Fly, Town & Country (Faber) and The Long Gaze Back (New Island). Her book for young readers, Great Irish Sports Stars: Cora Staunton, was published by O'Brien Press in 2019. Eimear's sports writing features in the Irish Examiner. She is also the writer in residence at UCC for 2021-2022. A native of Co. Tipperary, Eimear now lives in Cork city.
Jordan McCarthy is a writer from Youghal, currently based in Cork city. His writing has featured in the Irish Examiner, The Echo, East Cork Journal, Café Lit, Poetry in the Park, Swerve Magazine and placingpoems.com. He has made four radio documentaries under the Sound and Vision scheme for CRY104FM, including 'Leading The Field', which received a CRAOL/BAI accredited award. Jordan keeps a blog called 'Tipping Away' at thejordanmccarthyblog.wordpress.com. He is the producer and presenter of The Leeside Lives Podcast.