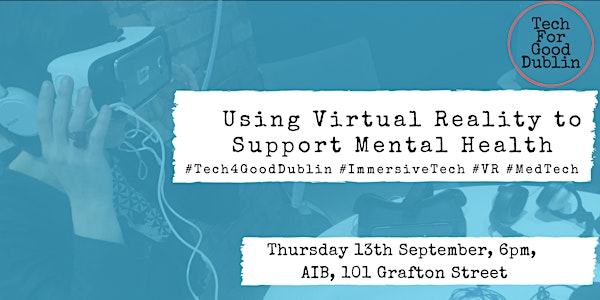 Tech For Good Dublin: Using Virtual Reality to Support Mental Health
When and where
Location
AIB Bank 101 Grafton Street Dublin 2 Ireland
Description
Our Tech For Good September event explores the potential of immersive technologies, such as VR, to support mental health. There will be case studies of work in progress, a panel discussion to talk through some of the challenges and a chance to try out some examples. Please join our Tech for Good Dublin community at https://www.meetup.com/TechForGood-Dublin/.
Format of event:
Dr David Trainor, CEO and CTO of Sentireal shares progress on a software platform, funded by the NHS, to create and deliver personalised virtual reality (VR) content to address mental health issues that lead to depression, self-harm and suicide. He explains the design and production methodolgy for making personalised VR learning products and showcases other immersive products he's made and the ethical dimension to this work. Camille Donegan from Virtual Reality Ireland will showcase products she has in development and demo along with Sabina Bonnici other immersive tech products that support mental health.
There will be an informal discussion/panel to discuss the potential of technology, in particular VR to support mental wellness wih input from mental health advocates. There will also be a chance for TechforGood attendees to try out VR examples on headsets.
Information on Contributors
Dr David Trainor
Dr David Trainor is the CEO/CTO of Sentireal, a supplier of Virtual Reality (VR) and Augmented Reality (AR) training software platforms. Sentireal specialises in medical/healthcare training and self-management, creating unique 'personal immersive learning' experiences by generating VR/AR using proprietary Artificial Intelligence technology. David is an active participant in healthcare and training activities within the VR/AR Association industry group.
https://www.linkedin.com/in/david-trainor-46582b14/
Camille Donegan
Camille is General Manager and Producer at Virtual Reality Ireland. She is currently working on creating and curating VR for healthcare apps and collaborating with MISA, Mercer's Institute for Successful Ageing. She is an enthusiastic evangelist and speaker about for the use of VR and AR.
https://www.linkedin.com/in/vrcamille/
Sabina Bonnici
Sabina is an experienced Creative Producer, founder of Fizzy Thinking www.fizzythinking.com. She specialises in creating digital experiences and interactions, installations and events. Sabina along with Camille are previous contributors to Tech For Good Dublin.
https://www.linkedin.com/in/sabinabonnici/