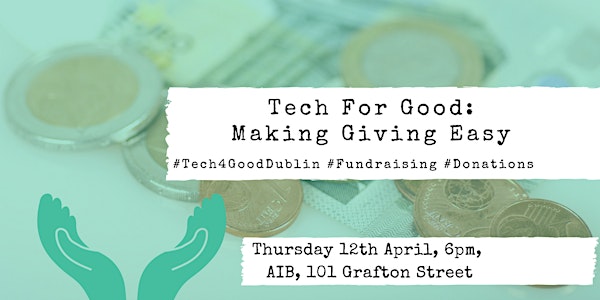 Tech For Good: Making Giving Easy
When and where
Location
AIB Bank 101 Grafton Street Dublin 2 Ireland
Description
Tech For Good: Making Giving Easy.

Our Event Focus: Tech for Good Dublin is showcasing enterprises that are harnessing digital technology to make giving easier. The adoption of digital technology, by the charity fundraising sector, is still at quite an early stage. Instead it's projects like Pint Aid https://pintaid.ie/ and One for Ireland www.oneforireland.ie that are leading the way and showing how to make giving easy. They are using mobile apps, text donations and crowd sourced campaigns to connect potential doners with good causes and to streamline the giving process.
Format: Our event includes some guest presentations followed by an open discussion exploring practical ways to harness digital technology to fundraise and support charitable campaigns.
The guest presenters will share how they use technology to make a difference, practical tips and lessons they've learnt along the way.
Presenters:
Amr Dawood is one of the founders of One for Ireland, which is a charity fundraising movement run for young people by young people. Once a year the aim is to make a major positive impact on a pressing youth issue by bringing Ireland together for a national fundraising effort. By asking for €1. From a lot of people. In 1 day. In 2016 they raised €172,633 for youth homeless. "Would you like to give One for Ireland?"
https://www.linkedin.com/in/amrdawood/
Tony Fernandez is the founder of PintAid. The app based product invites people to donate the price of a pint to their favourite charity today. It's about ensuring small change makes a massive difference, helping smaller charities to increase and accelerate their donations. Think of the difference you can make with the price of a pint.
https://www.linkedin.com/in/fundraisingfez/
Nick Sparrow an experienced fundraiser for the not-for-profit sector will also be contributing and sharing insights on challenges for the sector.
https://www.linkedin.com/in/nick-sparrow-445a157/
Thanks to AIB for venue and Liberty IT for supporting Tech For Good Dublin and for providing refreshments for people attending.