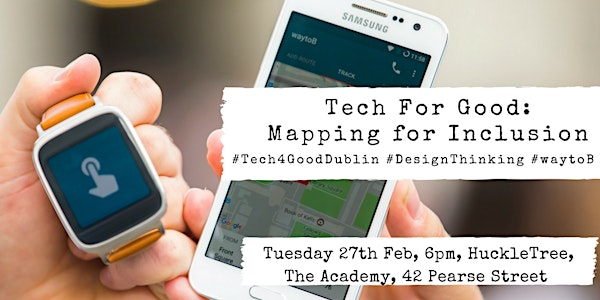 Tech For Good: Mapping for Inclusion
When and where
Location
Huckletree D2 42 Pearse Street The Academy (opp Science Gallery) D02 YX88 Dublin Ireland
Description
Format:
Our event showcases the award winning WaytoB app, winner of the Irish 2017 James Dyson Award, a mobile and smart phone app that supports, people with intellectual challenges, to travel independently.
Co-founders, and recent engineering graduates,

Robbie

Fryers and Talita Holzer Saad will:
Explain their start-up journey with WaytoB from an undergraduate college projects to start-up securing substantial funding.
Showcase the WaytoB app - now in it's 9th iteration.
Share insights on how to create a tech product that makes a real difference to people with intellectual difficulties.
Show how they used Design Thinking tools during design and development stages.
Share how they engaged end-users throughout including testing the app wiith 6 adults with Down Syndrome.
We'll also host a discussion about participatory design with some of the people with intellectual challenges who are involved in the design, prototyping and trialling process.
WaytoB
WaytoB
supports people, with intellectual challenges to go to new places independently by giving them turn-by-turn directions. The instructions are based on real time location and orientation data, which makes the navigating experience as easy and stress free as possible.
WaytoB is a smartphone and smartwatch app that allows the carer to pre-programme set routes, which users can follow easily and independently.
While most navigation apps have a multitude of different functions and complications, the WaytoB app features a simplified and intuitive interface based on the user's orientation.
Their design and prototyping process has been highly participatory - the award winning app is in it's 9th iteration and has involved end-users at every stage.
WaytoB is the winner of the Irisih leg of the 2017 James Dyson.
Biogs:
Robbie Fryers who is

from Belfast and Talita Saad, originally from Brazil, were inspired to invent a product to support people with intellectual disabilities, as Mechanical Engineering undergraduates at Trinity College Dublin. They have co-founded the start-up and currently planning a global launch and roll-out.
More Information: