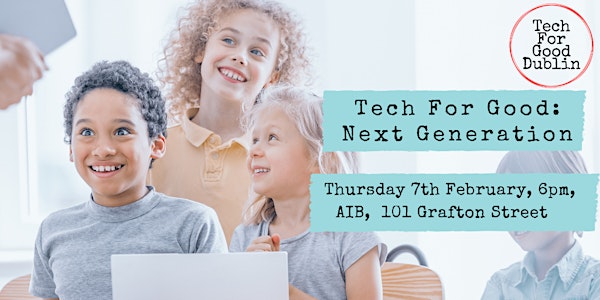 Tech for Good: Next Generation
When and where
Location
AIB Bank (Go in main doors and head upstairs) 101 Grafton Street Dublin 2 Ireland
Description
Tech for Good Dublin starts off 2019 with an event themed around young people and technology. It's a big exciting topic, and we have found 3 great speakers to talk about their areas of expertise and projects having positive impact in Ireland and around the world today. Come along and find out about how tech is helping parents maximise on early years learning, how free coding clubs are making a difference to thousands of children worldwide, and learn about how teachers are using VR in the classroom to bring the curriculum alive.
We will have the usual free drinks and snacks and time after the speakers for questions and networking with each other. We will also have some examples of the technology for you to try out, including SchoolVR headsets.
Our Speakers:
Oisin Hurley is the Founder and CEO of TalkToMeMore, an app which aims to bridge the vocabulary gap in young children. 34% of children are now below the expected reading level when entering school. And this problem is only getting worse. We believe this needs to change. Research shows that language exposure in the first 3 years is at the cornerstone of predicting a child's future social, emotional, and cognitive development. However if you can't measure something how can you improve it? The Talk2MeMore app works like a 'fitbit for word' to measure the vocabulary used by parents as young children are in their critical years of language learning. It provides parents with the ability to track the language their child hears, plus daily tips & activities are provided to boost and encourage parent talk.
Website: www.talk2memore.com Oisin Hurley LinkedIn: https://www.linkedin.com/in/oisin-hurley-17060b15/
Tara McGrath is the Community Coordinator Ireland at CoderDojo Foundation. CoderDojo is an education movement of free coding clubs in 113 countries all over the world. Our mission is to work to put the power of digital making into the hands of young people globally so that they are capable of understanding and shaping our increasingly digital world. To that end, we've built a global network of free, volunteer-led, community-based programming clubs for young people. Anyone aged seven to seventeen can visit a Dojo where they can learn to code, build a website, create an app or a game, and explore technology in an informal, creative, and social environment.
Website: https://coderdojo.com/ Twitter @CoderDojo
Mark Baldwin is CEO and Founder at SchooVR. His background in teaching led to the development of an educational platform that provides teachers and students with curriculum aligned virtual reality experiences. The mission at SchooVR is to ensure that every student feels empowered and engaged in their learning experience, regardless of their ability. SchooVR serves not to replace traditional textbook methods of teaching, but rather work in cooperation with these methods by providing a virtual platform that delivers the same high quality curriculum based content in a manner that is visually engaging and empowering for students. When students are able to engage and interact, learning not only becomes easier but also enjoyable.
Website: www.schoovr.com Twitter @MrBaldwin88