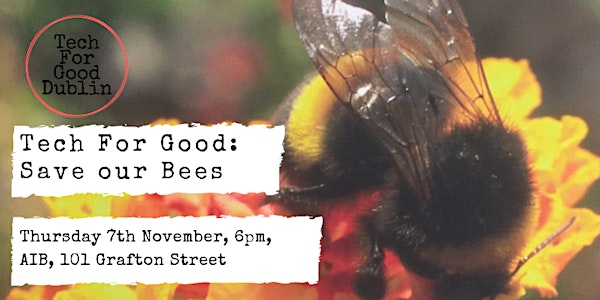 Tech for Good: Save our Bees
Find out how organisations and individuals are protecting bees using clever tech and practical projects.
When and where
Location
AIB Bank 101 Grafton Street (upstairs) Dublin 2 Ireland
About this event
Join us for a special event focused on 'the most important living beings on this planet' - a quote from The Earthwatch Institute, who reminded us this week that 70% of the world's agriculture depends exclusively on bees. But recent studies show almost 90 percent of the bee population has disappeared in the last few years. The uncontrolled use of pesticides, deforestation and lack of flowers are the main reasons for population decrease and bees are now on the endangered species longlist.
That's scary, right ?! But there are many ways to help in the fight to save bees, and we have found some people who are working in clever ways to do so, using technology, big data and urban spaces to encourage bee populations to thrive. Join us for an interesting conversation about our furry flying friends, ask questions and share your own ideas with us. We will have sugary snacks and tea and coffe and water available. The event is free and open to everyone so bring a friend or tell a bee fan you know.
We have 4 great speakers, who will talk a bit about their work, before sitting down together as a panel so we can ask all our bee questions and have a discussion together. Our speakers are:
Paula Lahiff and her team were involved in the deployment of Oracle technologies used for 'The World Bee Project Hive Network' which uses cloud technology to remotely collect data using a network of connected beehives. The data is analysed using AI to provide new insights into the relationships between honey bees and their environments. Researchers can 'listen' to the honey bees—analysing intricate acoustic data captured inside the smart hives, including the movement of bees' wings and feet. Combined with other precision measurements—including temperature, humidity and honey yield—researcher can closely monitor bee colonies, detecting patterns and predicting behaviours.
Paul Handrick (aka @the_beeguy) works with The Bee Sanctuary of Ireland and believes that wild bee sanctuaries are vital for the future of not only our insects, but all life on our planet. He is one of the people behind a 55 acres wild bee sanctuary which was created to help save our Irish native wild bees. There are no hives here, or honey produced, but instead a bee friendly habitat for wild bee populations to thrive. Paul will explain how and why this approach works, and is happy to answer your questions about wild bees and how we can work together to protect them from extinction.
Kevin Power is a forty-something year old software developer who has a wife, 4 kids and half a million bees. His involvement with the AIB bees was a chance occurrence. The idea to put bees on the roof of the AIB headquarters in Ballsbridge was dreamt up by Boyne Valley Honey and AIB, but there was no bee-keeper. Kevin's dad in Cork has kept bees for 35+ years and Kevin helped him regularly until he moved to Dublin in the early '90s. His dad got wind of the AIB plan, which led to Kevin getting a call to see if he was interested in being involved. The equipment and bees were sourced and installed on the roof of the AIB building, Kevin was handed a bee-keeping suit and a smoker and that was the start. The lapsed helper had become a fully practicing bee-keeper, and an exciting new urban bee project had begun.
Garry Connolly is the Founder / President of Host in Ireland, who have just launched an amazing project called Data Centres for Bees, which has already taken practical action in Ireland - 100 volunteers recently planted 2,000 trees with the Native Woodland Trust to encourage long term plant and insect biodiversity. The next phase of their project involves a Data Centre Pollination Plan which will help people take positive action to protect bees. Garry will join us to discuss the Why, What, Where, With Who and our Next steps in assisting the reversal of the extinction of our bee populations. This project is brand new, so we will be some of the first people to hear about it !