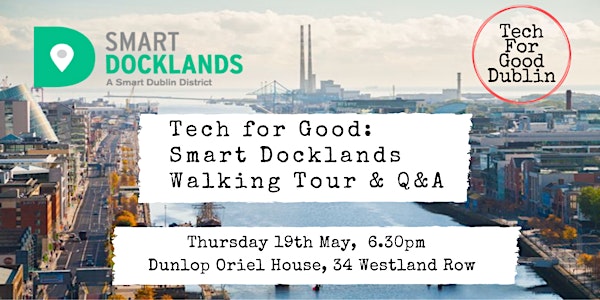 Tech for Good: Smart Docklands
Join us for a walking tour of smart technologies in the Dublin Docklands, plus free snacks and Q&A.
When and where
Location
Dunlop Oriel 34 Westland Row Dublin 2 Ireland
About this event
Tech for Good Dublin and Smart Docklands are joining forces in May for an in person event to show you smart tech at work in our wonderful city. If you have ever wandered what is going on behind the scenes with data and connectivity in Dublin, you can find out from the experts on a free 1 hour walking tour in the docklands area where we will enter a world-class smart city test bed focusing on how increased connectivity and IoT deployments can improve city life. This programme was Smart Dublin's first smart district and is funded by Dublin City Council and the Science Foundation Ireland research centre CONNECT in Trinity College Dublin.
The event will start Dunlop Oriel House, 34 Westland Row, Westland at 6.30 where we will have some free snacks and drinks and an introduction from our hosts, before setting off on a 30 minute walk around some key smart city features which will be explained as we go. There will be some time at the end for networking and asking questions, but you can head away after the walk if you have stuff to do, no problem.
Our hosts and speakers are: Darach Mac Donncha is the Smart Docklands Programme Manager driving the development and operation of the programme and its associated connectivity testbed. He also acts as an 'honest broker' liaising with local residents, city government, industry and academia to develop innovative solutions that help how cities operate
Grace D'Arcy is an Engagement Programme Manager at Smart Docklands, leading an education and skills programme (Visioneers - Academy of the Near Future) that aims to bring people into the conversation about new technologies through interactive workshops, hands-on activities and online resources
Veronica Mariti Sesoko is an Engineer working since 2019 at Smart Cities Unit in Dublin City Council (DCC), leading on exploring the Future of Drones and 3D City Models and Digital Twins through engagements with internal departments in DCC, Industry and Academia partners
Tickets are limited as the tour needs to be a small enough group, so if you change your mind, please do cancel your ticket so someone else can attend. Unfortunately we can't do an online version of this walking tour, but we will post some materials online and share the link in the comments for this MeetUp event.
The meeting point is at: https://goo.gl/maps/Uym1rvW4tDSZh2iZ6
More information about Smart Docklands here: https://smartdocklands.ie/
More information about Tech for Good Dublin here: https://techforgooddublin.org/
COVID-19 safety measures
If you wish to only join the outdoor walking part of the event and not come indoors, that should be possible. Arrive at 6.30 and let someone know at the door and we can collect you as we leave for the walking tour.