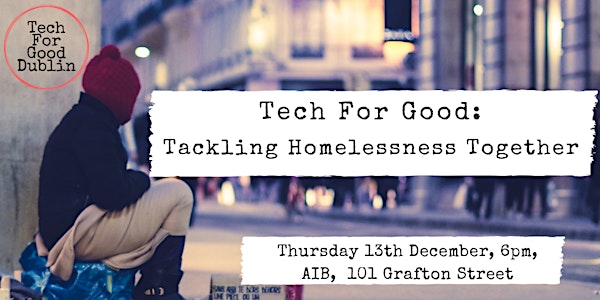 Tech For Good: Tackling Homelessness Together
When and where
Location
AIB Bank (Go in main doors and head upstairs) 101 Grafton Street Dublin 2 Ireland
Description
Focus: Tech for Good Dublin in December showcases tech responses to the homelessness crisis, in Dublin and beyond. There is so much potential to harness technology to help address the different aspects of homelessness. This is the start of the conversation about how we can tackle homelessness together.
Format: The event includes guest presentations followed by an open discussion exploring how tech can make a positive impact. We plan to invite people along who have personal experience of homelessness. Free tea/coffee and festive treats are available for everyone attending.
Presentations:
Giveback.ie James Gallagher and Victoria Ryan Nesbitt (Co-Founders), Cathal Curry (Operations Manager), Conor Greene (Marketing Lead). Giveback.ie is a Google Chrome extension that empowers consumers to tackle the homelessness crisis with the click of a mouse. Every time you make a purchase at a supported retailer, a percentage of your spend will be automatically donated at zero cost to you by the online retailer. The funds raised support the work of Inner City Helping Homeless. The Giveback.ie team also up-skill and empower individuals affected by homelessness. This program is evolving all this time and team plan to launch their second iteration of the six week program in the New Year. Links: GiveBack.ie
Philip Crowe is the CEO and Co-founder (along with Aoife Corcoran) of Space Engagers which developed the Reusing Dublin project. Space Engagers harnesses the power of citizens to capture data and use information to co-create better outcomes for their communities. Reusing Dublin offers everyone the opportunity to help address Dublin's housing crisis by gathering information on vacant and underused buildings onto one shared map. The project is co-ordinated by the Peter McVerry Trust and helps identify opportunities for bringing vacant and underused spaces back into use. Space Engagers received a ThinkTech Tech for Good award in 2016 from Social Innovation Fund Ireland and emerged from research carried out as part of the EU FP7 TURAS. Reusing Dublin was one of only 3 Irish projects recognised in November 2018, by the Financial Times in a list of Europe's top digital champions. Links: https://www.reusingdublin.ie/ www.spaceengagers.org
Andrew Funk - The Homeless Entrepreneur. Andrew Funk is the founder of #HomelessEntrepreneur and has himself personal experience of homelessness. The association is based in Spain, the US and Pakistan and helps elimate urban homelessness by developing the skills and talent of those who find themselves without a home. #HomelessEntrepreneur believes "Technology can speed up the process of creating sustainable work and dignified housing for, and with, homeless people willing and able to tell their story and work to become active citizens again." They are currently using Blockchain technology to facilitate transparency in their work. Andrew holds monthly sleepouts to give homeless people an active voice i.e. Davos and recently at the Web Summit in Lisbon - where he met Mairin Murray (co-founder of Tech for Good Dublin).
Links: https://www.homelessentrepreneur.org/