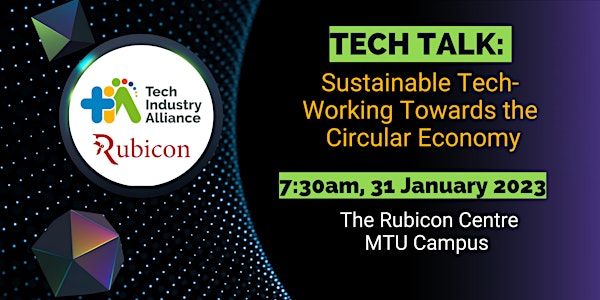 Tech Talk: Sustainable Tech – Working Towards the Circular Economy
Join us for our next in-person Tech Talk on "Sustainable Tech – Working Towards the Circular Economy"
By Tech Industry Alliance
Date and time
Tue, 31 Jan 2023 07:30 - 09:00 GMT
Location
The Rubicon Centre MTU Bishopstown T12 Y275 Cork Ireland
About this event
Join us for our next in-person Tech Talk on "Sustainable Tech – Working Towards the Circular Economy". This in-person event is in conjunction with the Rubicon Centre and will take place on Tuesday 31st January from 7.30am to 9am in The Rubicon Centre (refreshments & networking from 7.30 am, panel discussion from 8am – 9 am).
Sustainable technology is an umbrella term which describes innovation that considers natural resources and fosters economic and social development. The goal of these technologies is to drastically reduce environmental and ecological risks and to create a sustainable product. As part of this many companies are also focusing their strategies and energy towards the evolving Circular Economy.
As a model of production and consumption a circular economy involves sharing, leasing, reusing, repairing, refurbishing, and recycling existing materials and products as long as possible. In this way, the life cycle of products is extended and less greenhouse gases will be emitted. The circular economy is a systems solution framework that tackles global challenges like climate change, biodiversity loss, waste, and pollution.
Every business owner wants to make a difference and remain compliant with environmental and social standards. By implementing sustainable innovations, companies can stay competitive and help the environment. We all want a healthy planet for today and tomorrow. The small choices we make each day can help us get there. During the event we'll look deeper into why your business should implement sustainable technology and we will showcase what companies are doing locally.
Expert panellists include:
Overview of speakers: 
Michael Loftus holds responsibility for industry engagement and enterprise support, as well as covering marketing, research, innovation, student entrepreneurship, internationalisation, alumni relations, fund-raising and technology-enhanced learning. He has a long track record of entrepreneurship and leadership in industry, having co-developed a successful international IT consultancy business and having held senior roles in IT consultancy, research, technical management and software development. He held the post of Head of Faculty of Engineering & Science in CIT for a 10-year period and is a founding member of STEM South West, the STEM industry association which was established in 2019. He chairs the boards of the companies which run MTU's Rubicon Centre and MTU Blackrock Castle Observatory, and he is a board member of MTU's foundation company. He was a founding member of Cyber Ireland. He has also served on the boards of it@cork and Cork Chamber. He is also deeply involved with a number of committees in relation to development of the South West Regional Enterprise Plan and the South West Regional Skills Forum.
Sean Sheehan is the Chief Executive and Founder of Wisetek, a global leader in IT Asset Disposition, Reuse, and Manufacturing services. Sean possesses over 30 Years of extensive experience in the Electronics Manufacturing Industry, including Global Corporations EMC & Wang Labs. Proactively involved in all aspects of operations management including Manufacturing, Warehousing, Reverse Logistics, Rework & Quality. An advocate of manufacturing Lean Sigma methodologies, Entrepreneur of the Year Finalist 2013, and winner of the Cork Large Company of the Year 2019, Sean holds an MSc. in Professional Practice (Operations Management) and a Diploma in International Selling.
Dr Mary O'Riordan is co-founder of HaPPE Earth. HaPPE Earth: HaPPE Earth champions sustainability and the circular economy by aiming to  bring together CE approved, compostable PPE products with an SDG impact measurement tool for healthcare and a medical waste industrial, composting solution.
Mary has been 18 years in clinical medical practice, the last 8 of those involved with Public Health Medicine, specialising in Emergency Response for Highly Emerging, Infectious Threats. She has been the International Health Regulations (IHR) and ECDC Irish Focal Point representative for emerging, infectious threats. She has in depth knowledge of inter-sectoral collaboration when dealing with complex, societal issues related to infectious diseases. She is highly interested in bringing practical solutions to the One Health agenda working with Health, Environment and Agriculture for sustainability in healthcare.
Ingrid De Doncker is an innovator in sustainable procurement and responsible supply chain with more than 20 years' experience with global procurement and supply chain teams. She lectures in 3 universities and is involved with projects under the European Innovation Council and Horizon Europe. She is a Co-founder and Head of Research and Innovation at FUTURE PLANET, a provider of Sustainable Lifecycle Management software services. At Future Planet, she applies her deep procurement and supply chain expertise to guide companies to Live Better, Buy Better, Design Better. The company's software platform empowers organisations to embed sustainable best practices across their entire value chain, while measuring and recording progress against reporting standards. Future Planet won the prestigious 'Irish Times Innovation Award' in November 2022.
About the organiser
Tech Industry Alliance (TIA) is a rapidly growing network of over 250 ambitious tech-producing and tech-enabled businesses. We are a community of startups, scale-ups, multinational companies, academia and public sector organisations. Together we are supporting and creating a vibrant ecosystem where people, ideas and enterprises can thrive.