"Technology as a driver for solution design" Webinar
An interactive webinar for PhD students to learn about potential of technology as a driver for manufacturing ideation and development.
About this event
The webinar "Technology as a driver for solution design" is organized in 3 sessions of 2 hours each and the speakers will interact with the participants to make them understanding how technology can be a driver for manufacturing innovation.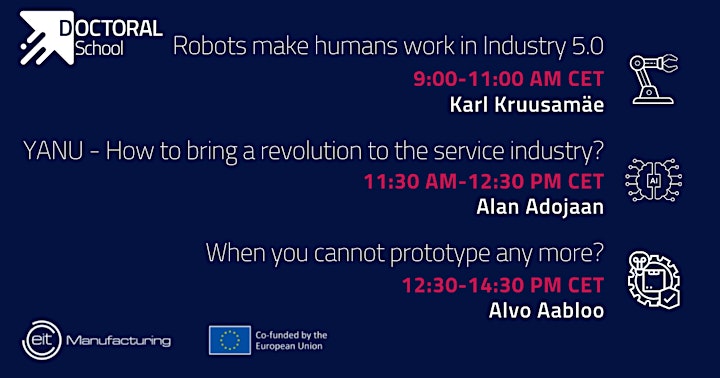 At 09:00 AM CEST: "Robots make humans work in Industry 5.0", by Karl Kruusamäe
The speaker:
Karl Kruusamäe is associate professor of Robotics Engineering at University of Tartu.
At 11:30 AM CEST: "YANU - how to bring a revolution to the service industry?", by Alan Adojaan - Yanu
The speaker:
The robot bartender: Yanu is a fully autonomous AI empowered robot that is far more efficient than any measly human bartender. It serves drinks, handles payments, asks patrons for ID and is capable of conversation. The designers say that Yanu has an almost supernatural, yet very real, personality that is a pleasure to communicate with. He is designed to serve up to 200 drinks per hour and stocks up to 2000 drinks and cocktails at a time.
At 12:30 PM CEST: "When you cannot prototype any more?", by Alvo Aabloo
The speaker:
Alvo Aabloo is professor of Polymeric Materials at University of Tartu. see www.ims.ut.ee, https://www.linkedin.com/in/alvoaabloo/, https://www.etis.ee/CV/Alvo_Aabloo/est
Discover here below the other EIT Manufacturing Doctoral School Innovation Webinars in 2022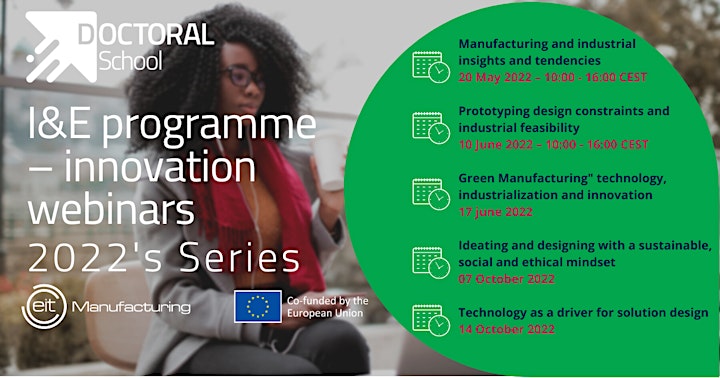 The webinars will be recorded and made available to the participants. Joining the webinars you agree with the EIT Manufacturing privacy policy and data management, to share your contacts with the Doctoral School university partners, to the recording and sharing of the video: https://eitmanufacturing.eu/privacy-policy/
The EIT Manufacturing Doctoral School run an Innovation and Entrepreneurship programme, linked with international and cross-organizational mobility on top of PhD positions across Europe, through a consortium of six universities, as showed in the picture above. Checkout the EIT Manufacturing Doctoral School web page to discover main information : https://eitmanufacturing.eu/activities/eit-manufacturing-doctoral-school/