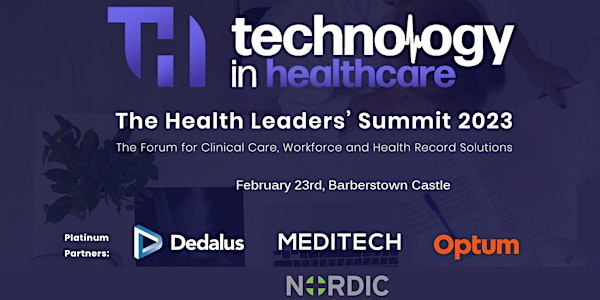 Technology in Healthcare - The Health Leaders' Summit 2023
The Forum for Clinical Care, Health Informatics and Health Record Solutions
When and where
Location
Barberstown Castle Straffan W23 CX40 Straffan Ireland
Refund Policy
Refunds up to 7 days before event
About this event
February 23rd 2023
Barberstown Castle, Co. Kildare
What is Technology in Healthcare – The Health Leaders' Summit 2023 ?
Our Health Service has seen unprecedented demand and our growing and ageing population continues to exert pressure on our stretched resources. It is now more critical than ever to focus on safe and robust systems that will provide greater integration and enhanced patient care.  This Summit will bring together healthcare IT experts and industry leaders who understand the real life challenges of electronic health systems in the context of ever evolving cybersecurity risks while pushing the boundaries of innovative patient care.
Agenda
Thursday February 23rd Working Agenda: 08.00 – 16:10
08.00    Registration, Tea & Coffee and Networking
08.50   Welcome
Conference Chair:  Andy O'Donoghue, Technology broadcaster and columnist, Today FM & Irish Mail on Sunday
Session 1:  Trust and Cybersecurity
Enhancing collaboration and communication, managing third-party risk, and balancing innovation with security
Chair: Andy O' Donoghue
09.00    Tony McKeown, CIO, Bon Secours Health System
"Bon Secours Cyber Strategy" 
09.20   eir evo speaker tbc
09.40   Mike McCann, Group Chief Information Officer, Blackrock Health
10.00   Puneet Kukreja, Chief Information Security Officer, eHealth Ireland and HSE OoCIO
10.20    Session 1 Panel Discussion: 
•    Tony McKeown
•    Speaker tbc
•    Mike McCann
•    Puneet Kukreja 
10.40      Morning Coffee 
Session 2:  EHR
Moving towards a Paperless Hospital
Chair: Andy O'Donoghue
11.10  Catherine Turner, Associate Vice President, Meditech    
11.30  Maria McCann, Organisational Psychologist, Director of Health Identity Management Services, HSE
11.50  Rachel Dunscombe, Chief Industry Advisor, Dedalus
12.10  Neil O'Hare, Group CIO, Children's Health Ireland 
           Adrian Carroll, EHR Programme Manager for CHI
12.30  Carol Chouinard , VP, Provider Technology, Optum® Advisory
12.50   Session 2 Panel Discussion: 
•    Catherine Turner
•    Maria McCann 
•    Rachel Dunscombe
•    Neil O'Hare 
•    Adrian Carroll
•    Carol Chouinard
13.20   Complimentary Lunch
Session 3:  Technology Driving Healthcare Efficiencies  
Chair: Andy O'Donoghue
14.20 Bill Meredith, Vice President at Healthtech Consultants, a Nordic Global Company
Alison MacDonald, Vice President at Healthtech Consultants, a Nordic Global Company
14.40   Speaker tbc
15.00   Eleanor Rollason, Executive Partner, Channel 3 Consulting 
            Bill Shields, NHS Devon Integrated Care Board
15.20   Christian (Chris) Carmody, Chief Technology Officer & Senior Vice President, UPMC                                                                          
15.40   Session 3 Panel Discussion 
•    Alison McDonald & Bill Meredeth
•    Speaker tbc
•    Eleanor Rollason & Bill Shields
•    Christian (Chris) Carmody
16.10   Closing Remarks: 
16.20      Conference Close