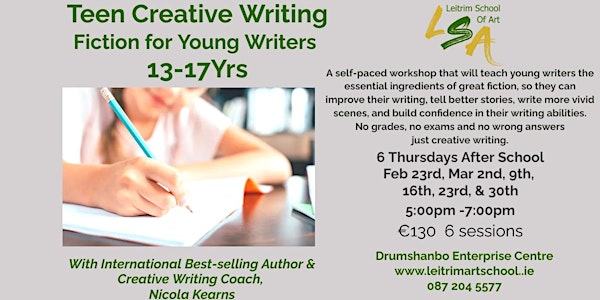 Teen Creative Writing, 6xThu AftSchool,5-7pm. Feb 23, Mar 2, 9, 16, 23, 30
Creative Writing13-17 yrs. Thu Aft School . 5-7pm starts Feb 23 Total Price €130;€30 deposit on booking. balance €100 payable at first class
Date and time
Thu, 23 Feb 2023 17:00 - 19:00 GMT
Location
Drumshanbo Enterprise Centre Building C Hilly Road Drumshanbo Enterprise Centre Ireland
Refund Policy
Contact the organiser to request a refund.
About this event
Creative Writing for Teens (13-17yrs.)
Fiction for Young Writers is a self-paced workshop that will teach young writers the essential ingredients of great fiction, so they can improve their writing, tell better stories, write more vivid scenes, and build confidence in their writing abilities.
Tutor, Nicola has created a dynamic course to help young writers (beginner to advanced) build a storytelling foundation and nurture their love of writing.
Unleash your creativity as a writer, while having the freedom to write what you want, but you also gain the discipline of writing craft.
There are no grades, no exams and no wrong answers—just creative writing, helping young writers discover and develop their unique voices. The idea is to explore—see with a writer's eyes, spark ideas to life, gain confidence, and experiment with both fiction and nonfiction.
This course offers Fun writing prompts designed to spark your imagination and get your creative juices flowing.
 Tons of practical writing tips and advice to take you on an unforgettable creative journey toward becoming an amazing writer
Nicola's many years of professional experience of writing for magazines and her own novels, combined with an in-depth knowledge of the writing craft makes for an engaging, humorous, and enlightening class that is guaranteed to remind young writers why they love to write.
Please note the 'Deposit and Missed Classes Refund Policy' below
Leitrim School of Art (LSA)
'Deposit and Missed Classes Refund Policy' from 1st December 2022
(a) Due to substantial increases in business costs LSA cannot offer discounts, refunds, or alternative places on future events for missed classes within class blocks.
(b) A request for a refund of a deposit may be considered if the refund request is received by LSA at least 10 days before the start of the event.
(c) A request to transfer a deposit to another event may be considered if the request to transfer is received by LSA at least 10 days before the start of the originally booked event.
(d) Requests for refunds or transfer of deposits must be notified to LSA by email to michael@leitrimartschool.ie
(e) Requests for refunds will be responded to by LSA within 3 days of the request being notified to us.
(f) Your statutory rights as a consumer are not affected and LSA will "make good" on its obligations to consumers for failure to provide classes and workshops (e.g., event cancellation).