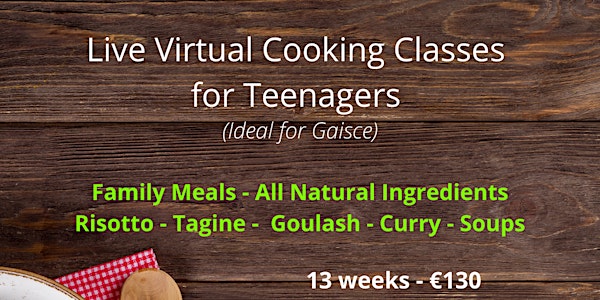 Teenage Cooking Classes - 9 Family Meals, 2 Sweet Bakes, 1 Soup & 1 Bread
Learn new kitchen skills or build on existing knowledge - cook 9 family meals, bake 2 sweet treats and a loaf of brown bread in 13 weeks!
About this event
This 13 week course is designed for Teenagers who would like learn new kitchen skills or build on their existing knowledge by cooking and baking in the comfort of their own home. By the end of the course your teenager will have made 9 family meals, baked 2 sweet treats and a loaf of brown bread. See below the full schedule for the 13 weeks. So come home after a days work to a nice homemade meal by your Teenager!
Course starts on November 3rd @ 5pm. Approximately one hour each week but somedays it may be a little longer or shorter depending on what we are cooking!
This course is ideal for those doing the Gaisce program.
​#GaisceAtHome #GaisceSaBhaile
Emily Lavelle is passionate about teaching young adults & children cooking and baking skills so they can nourish their bodies for life. Clear instructions, demonstrations & support will be given during the Live Virtual Classes to ensure your Teenagers cooking & baking is successful. Ingredients lists will be sent after sign up and recipes will be distributed after each class. During lockdown Emily ran weekly Cook & Bake classes for kids from 8-13 years. Check our her instagram account for all the delicious foods they made.