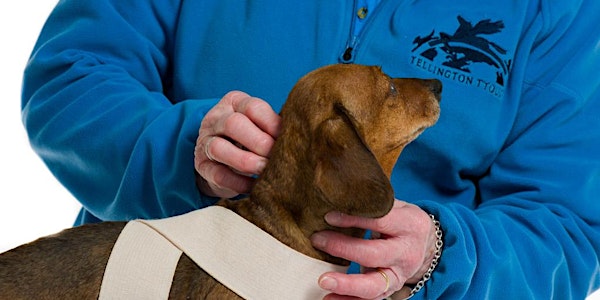 Tellington TTouch Workshop,Seminar and Instruction
TTouch workshops teach people how to do TTouch on their animals. It can help to heal a problem, to reassure or just to create a bond
When and where
Location
The Canine Centre Unit 7, Churchtown Business Park Beaumont Avenue D14 H766 Churchtown Ireland
Refund Policy
Contact the organiser to request a refund.
About this event
TTouch comprises of Body Work and Ground Work
The Body work is done very gently with your hand doing TTouch movements all over the animals body. This can help a sick animal or an animal who has had surgery, it will help to lower stress levels and cope with pain and numerous other problems that an animal may have.
The Ground Work is to get your animal more alert and to 'think' It also helps with balance and weight distribution, making the animal very aware of its own body.
TTouch - the Tellington TTouch - is a method of treatment based on circular movements of the fingers and hands all over the body. The intent of the TTouch is to activate the function of the cells and awaken cellular intelligence - a little like "turning on the electric lights of the body". The TTouch may be done on the entire body, and each circular TTouch is complete within itself. Therefore it is not necessary to understand anatomy to be successful in speeding up the healing of injuries or ailments, or changing undesirable habits or behaviour.
The Tellington TTouch is a specialized approach to the care and training of our animal companions. Developed by internationally recognized animal expert, Linda Tellington-Jones, this method based on cooperation and respect offers a positive approach to training, can improve performance and health and presents solutions to common behavioural and physical problems. It also helps establish a deeper rapport between humans and animals through increased understanding and more effective communication.
Important note for workshop attendee's
The emphasis of this Workshop is to give a hands-on introduction to TTouch. The aim is to give the opportunity to practice with each other and with participating dogs so that everybody takes away some practical skills.
We actively encourage participants to bring a dog to the Workshop. However, please be aware that we will not be working with all of the dogs all of the time so he/she needs to be able to spend time in the hall on a blanket or an indoor crate , without becoming unduly stressed. You do not have to bring a dog to this Workshop to participate fully with the practice
Certificate & booklet included for attendees.