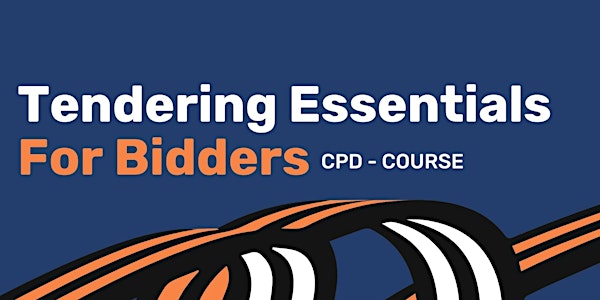 Tendering Essentials for Bidders - CPD Course
This training course attracts 2 CPD points, and consists of a 2 hour 15 minute Zoom session, There are two courses:
Refund Policy
Contact the organiser to request a refund.
About this event
In association with Tender Team, Professional Training Centre is delighted to offer a new practical, leading edge, focused training sessions for those drafting public sector tender responses within Professional Services firms.
Facilitator- Eoin Lonergan BBS (TCD), MA, M.Sc (Glam), DipM, DipTHE, FCIPS
Recognised expert instructor with 25+ years
experience advising, drafting, and
evaluating tenders
2 CPD points per workshop
Recognised as a CPD provider
€150 per workshop, limited places available
Tickets available on Eventbrite
We recommend you sign up for both courses to maximise the benefits, even if you are familiar with tendering processes.
Eoin Lonergan is a recognized procurement expert, practitioner, trainer and mentor with significant multi-sector experience gained over 25 years. He has twelve years blue chip consulting experience working with Deloitte and PwC (London), and EY (Dublin) where he headed up their procurement advisory practice in Ireland.
Eoin's expertise in all aspects of tendering and public procurement was recognized when he was appointed as the 1st Sourcing Director at the OGP in late 2013 where he served until early 2016. Eoin is the Chairperson of the Chartered Institute of Procurement & Supply (CIPS) Ireland and has authored three official textbooks for CIPS. He is a Director at TenderTeam, a specialist bid strategy and drafting consultancy firm and has supported dozens of Irish companies to draft winning bids in the past 5 years.