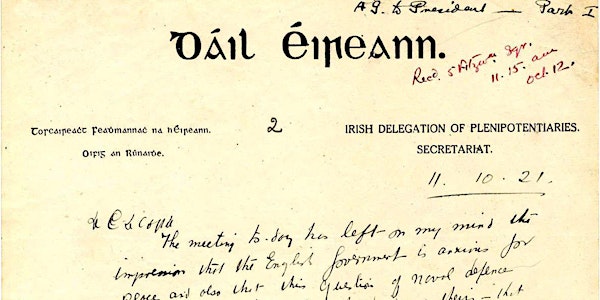 'The Anglo-Irish Treaty negotiations under the magnifying glass'
'The Anglo-Irish Treaty negotiations under the magnifying glass with Michael Portillo in conversation with Professor Marie Coleman'
About this event
The National Archives is delighted to announce 'The Anglo-Irish Treaty negotiations under the magnifying glass with Michael Portillo in conversation with Professor Marie Coleman', the second event in our commemorative lecture series for autumn–winter 2021.
The talk will be streamed live from the Royal Irish Academy on Dawson Street, Dublin at 6pm on Thursday 28 October next and will see Michael Portillo (broadcaster and former British cabinet minister) discuss with Professor Marie Coleman (Professor in Modern Irish History, Queen's University, Belfast) the Anglo-Irish Treaty negotiations held in London from 11 October–6 December 1921.
The speakers will debate what was at stake for both delegations and their respective governments and will consider the wider implications the Treaty had, not just for future Anglo-Irish relations but also for Britain's allies and empire.
Biographies
Michael Portillo
Michael Portillo was a Conservative Member of the Westminster Parliament during the periods 1984–1997 and 1999–2005. He was a minister for eleven years during which he held three cabinet posts. His second career has been in the media. He was a regular on BBC1's satirical political review "This Week" throughout its sixteen-year run. He has made programmes based on railway journeys for BBC2 for the last thirteen years and production continues. His programmes for RTÉ have been on the centenaries of the Easter Rising, the War of Independence and the creation of Northern Ireland.
Marie Coleman
Marie Coleman is a Professor in Modern Irish History in the School of History, Anthropology, Philosophy and Politics at Queen's University, Belfast and the author of several books in addition to refereed articles and essays on the Irish revolution. She is the joint editor of Irish Historical Studies and sits on a number of committees related to the Irish Decade of Centenaries eg the Military Service Pensions Project Advisory Committee, the Beyond 2022 International Advisory Board and the Northern Ireland Office Centenary Historical Panel.
Note: The lecture will be hosted on Zoom and the link to attend will be sent in advance of the event to the email address with which you registered